Portland police discover 5 stolen rifles after stumbling upon homeless tent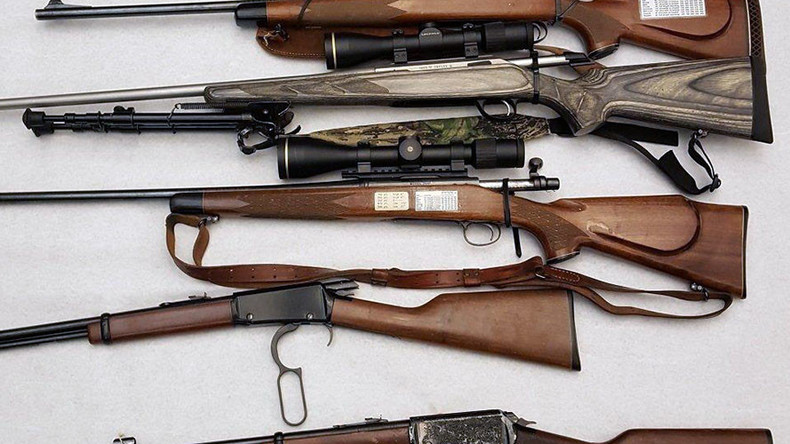 Two homeless people were arrested after Portland police stumbled upon five stolen rifles in their tent. Both were arrested and then jailed on several charges, including unlawful gun possession, theft, and drug-related offences.
A stolen car spotted on one of Portland's streets on Saturday led local police to an even larger cache of illegally attained items.
"Officers watched the stolen car to see if anyone in the area returned to it and later observed a person approach the car, remove some items, and place them into a nearby tent," the Portland Police Bureau (PPB) said in a statement.
According to police documents, that person was 24-year-old Eric Christian Nunez, a homeless man who appeared to be living in the tent, which he shared with Jordan Alexander Clark, 42, who was also present at the scene.
Both Nunez and Clark were detained "without incident" after officers found five rifles inside the tent.
The PPB's Gun Task Force determined the rifles had been reported stolen after a Clackamas County burglary. The report did not provide any specific details concerning the theft.
The car in question, a 1996 Acura, had been reported stolen in Vancouver, Washington, according to the PPB.
"Inside the car, officers located a stolen handgun," it said.
As KOIN6 news reported, citing court documents, Nunez claimed that Clark had nothing to do with "whatever I'm here for."
Nonetheless, Clark was charged with five counts of a felon in possession of a firearm and an outstanding warrant for theft in the third degree.
Nunez, meanwhile, was charged with six counts of a felon in possession of a firearm, six counts of unlawful possession of a firearm, one count of unlawful use of a motor vehicle, and one count of possession of a stolen motor vehicle. There were also outstanding charges for possession of heroin, escape in the third degree, and a parole violation.
"Unfortunately, there are criminal activities occurring in some of these places, drugs, weapons and things," PPB Sergeant Pete Simpson said, according to KOIN6. "But to have rifles found is very eye-opening, not only for the officers but probably for the community."
You can share this story on social media: