Clinton, Sanders make final pitch at Democratic town hall debate before Iowa votes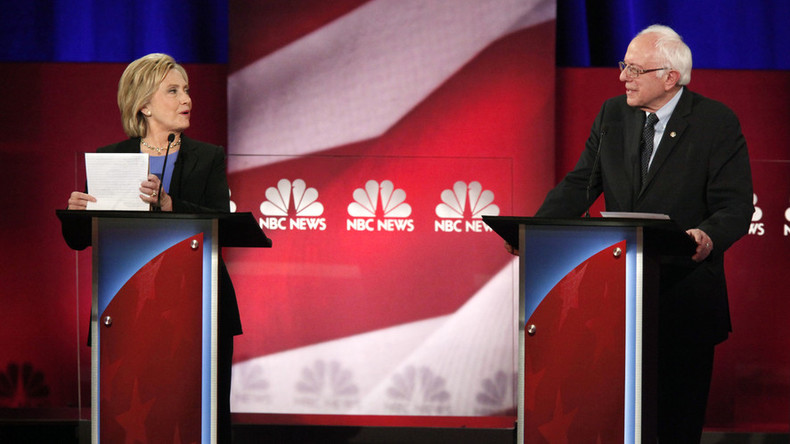 Calling the town hall "something different," CNN host Chris Cuomo led brief interviews with Democratic presidential candidates Sen. Bernie Sanders, Hillary Clinton, and Martin O'Malley before letting Iowans chime in just one week before the caucus.
First, Chris Cuomo sat down with Sanders, opting for a soft open: "Busy day?"
"Yes," Sanders answered. Arranging his posture as he sat, Sanders added, "My wife told me to button my coat, but I think I'm too fat."
The laughs subsided and turned to political philosophy. Sanders told Cuomo that his version of "democratic socialism," what he described as bringing "the right for economic security" to the US, was gaining supporters much faster and pushing his campaign "much further" than he thought it would.
"We need a political revolution," Sanders said, touching on the issues of stagnant wages, the corrupting influence of campaign finance, and what he referred to as the "rigged economy."
When it came time for questions from the audience of Iowa voters, registered nurse Renea Seagren posed a challenge to Sanders. In asking about what Sanders calls "Medicare for all," Seagren relayed an anecdote of Medicare not working all that well for someone she knew. How would it be feasible to promise it to everyone, if it isn't working as it should now, she asked.
Sanders answered Seagren by extolling his experience "on the committee that wrote the Affordable Care Act" and pointing out that in 2014, one in five people couldn't afford prescription drugs as the top three pharmaceutical companies reaped $45 billion in profits. While Sanders acknowledged taxes would be raised to facilitate a plan to "eliminate private insurance premiums," he promised the middle class would save thousands of dollars a year on healthcare bills.
Sanders urged Clinton supporters to ask her if she would "lift the cap on taxable income," which he said would give the federal government enough revenue to expand Social Security. While couching his contrasts with the words, "I like and respect her," Sanders drew another difference with Clinton, one on foreign policy, saying her vote to authorize the war in Iraq in 2003 lacked good judgment.
When it was Hillary Clinton's turn to take the stage, her first question from the audience was from a young voter who leaned toward supporting Sanders.
Taylor Gipple, an app developer, said many of his friends viewed Clinton as "dishonest," prompting him to ask her why she isn't "resonating" with the youth.
"They throw all this stuff at me, and I'm still standing," Clinton said, alluding to the Benghazi hearings, encouraging young people to carry on even when the political stakes are tough.
The next question, again, was from a young Sanders supporter who reminded Clinton that Vice President Joe Biden had referred to her as "a newcomer" on the issue of income inequality.
Clinton gave a list from her career regarding the issues of equality she has fought on, from gender to race to sexual orientation. She defended her record on education and criminal justice equality, then in the end spoke specifically to income inequality, citing her time in the White House when, under President Bill Clinton, average incomes rose after eight years.
Dick Goodstein of the Des Moines Committee on Foreign Relations, a likely Clinton supporter, posed her the question of where she would place herself on a scale of 1-10 on foreign affairs, with 10 being very interventionist and 1 being non-interventionist.
Clinton gave no exact figure, but took credit for paving the way to the nuclear deal with Iran. It took 18 months, she said, to get the international community on board with sanctions against Iran, then another year on top of that to get them to obey them, ultimately making the negotiation process possible.
In the end, Cuomo wanted to make sure Clinton talked about her private email server, citing The Des Moines Register's criticism in its endorsement of her that she doesn't apologize when she should. Clinton said it was a fair point, to which Cuomo asked if it was an example of "error in judgment."
"No," Clinton, said. "I'm not willing to say it was an error in judgment, because nothing that I did was wrong."
She explained that "you've got to get the facts" when allegations come up, and it was during that time she was more focused on the accusations than apologizing for using a personal server to handle classified information as secretary of state.
Martin O'Malley's time was in the middle of the two frontrunners, but the former Maryland governor and Baltimore mayor placed his hope in the people of Iowa who "like to upset the apple cart."
Promising to run the US economy on entirely clean energy by 2050, O'Malley said his plan would guarantee 5 million "green" jobs. In answering questions, O'Malley also highlighted his national service plan, calling it a "universal option" to "tap that goodness" in the youth and "bring it forward."
O'Malley's record of zero tolerance policing was attacked in a question from a Black Lives Matter supporter who said his "history in office contradicts" his "current platform," and O'Malley responded by doubling down, saying he was proud to have "improved how we police [the] police."
O'Malley counted greatly increasing treatment for drug addicts and repealing the death penalty among his achievements in serving the black community. Like most of the questions to the candidates, there was no follow-up.
You can share this story on social media: