Billionaire David Koch resigns from NYC's Natural History museum board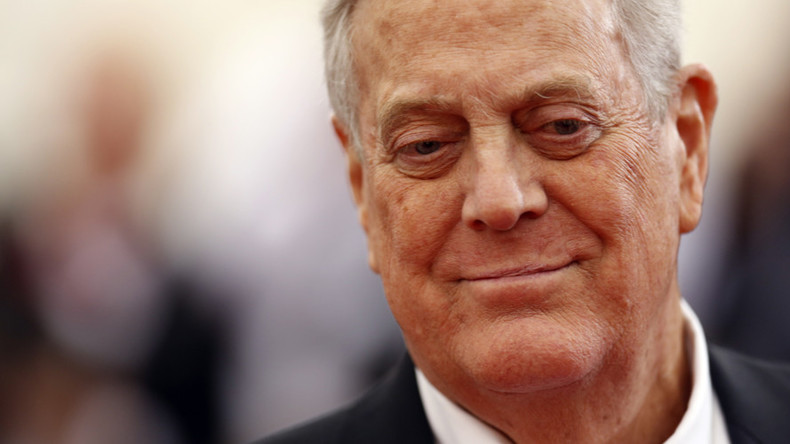 Oil billionaire and industrialist David Koch has resigned from the board of the American Museum of Natural History amid scientists' calls to cut ties with him over climate change denial. Koch, who donated over $20 million, served for 23 years.
According to the New York City-based museum, Koch's term on the board of trustees ended on December 9. A museum spokeswoman, Anne Canty, denied any links between the resignation and the criticism that Koch faced over his business and support for anti-climate change groups.
"This change was one of several that took effect at the meeting as part of the normal course of business," another spokesman for the museum confirmed to the Guardian.
Koch's spokesman, Cristyne Nicholas, has also denied that calls for his dismissal had affected his removal from the board.
"He was not swayed by that at all and it absolutely did not factor into his decision," she said, according to the New York Times.
She added that the billionaire, who is also on about 20 different boards around the US, was "honored to have served on the board." Now he is going to focus on contributions to cancer research.
However, despite the statements, Koch's resignation has been welcomed as a victory among the scientists who have been calling for the museum to cut ties with fossil fuel companies and those who head them.
In March 2014, nearly 150 scientists signed an open letter in which they accused Koch and his manufacturing conglomerate Koch Industries of contributing to greenhouse gas emissions in the US. They also noted his financial support for "a large network of climate-change-denying organizations" and "spending over $67 million since 1997."
"This corporate philanthropy comes at too high a cost," the scientists concluded, stressing that the only "ethical way" for the museum to operate would be to sever relations with him.
Nevertheless, Koch remains on the advisory board of the Smithsonian National Museum of Natural History. In response to the last year's letter from the scientists, the institution said that "donors and supporters have no influence on the content or presentation" of exhibitions, regardless of their private interests.
You can share this story on social media: