Raccoon express: Giant raccoons take over Chinese restaurant in the Bronx (VIDEO)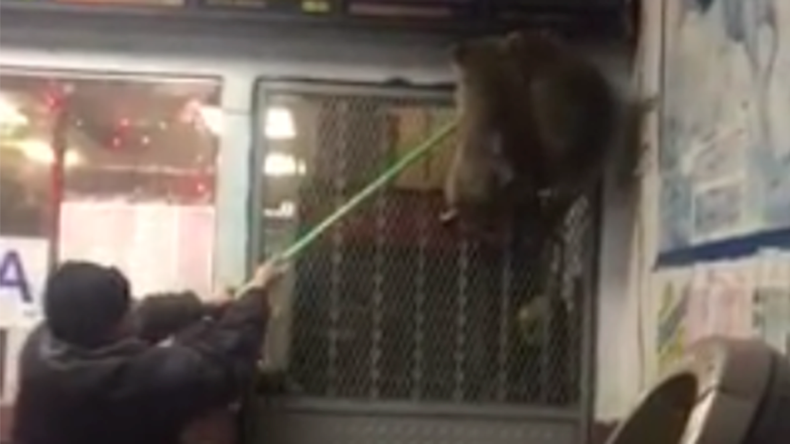 Two fat raccoons tried to lay a claim to a Chinese restaurant in the Bronx, New York on Thursday.
The furry creatures stood their ground before eventually being chased out by a customer with a broom.
Tamika Jones uploaded the video to her Facebook account and said that she came across the scene at the New Chinatown restaurant at 3955 Bronxwood Avenue near 224th Street.
She said she noticed the creatures when her little brother suddenly ran out of the store. "I pulled out my phone, next thing you know my godfather was there getting it with the two raccoons," she said.
The video has gone viral since it was uploaded on Thursday night and now has over 2.1 million views.
'READ MORE: 'He is doing it!' Raccoon swipes doughnut in ninja-style cafe heist (VIDEO)
Jones' godfather is seen in the video trying to knock down the raccoons using the end of a lime green broom, while the animals doggedly hung on.
"The owners said they just came from outside, but I never saw them run past me," Jones said.
The incident didn't put Jones off her food, though, as she demonstrated in a follow up video.
In September last year a New York rat rose to fame after a video of it dragging a slice of pizza down the stairs of a subway station went viral. It was later reported that the incident was a stunt.
You can share this story on social media: