Kidnapped toddler's dramatic return captured by police body camera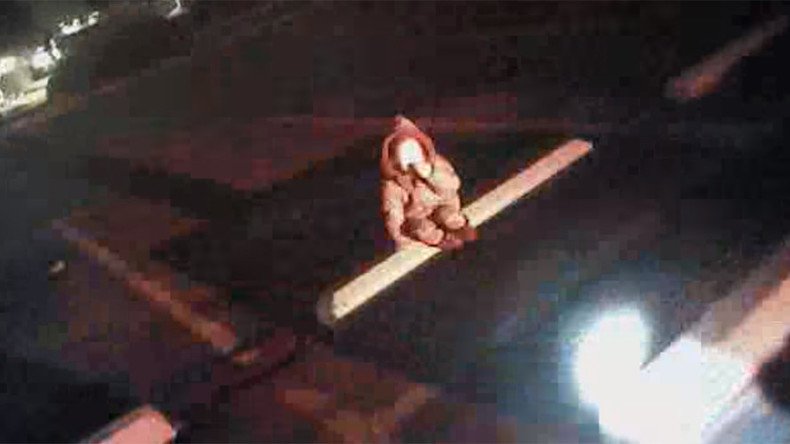 The rising use of body cameras by police is meant to reduce brutality by officers, but new footage released this week shows a happy reunion for a three-year-old girl from Albuquerque, New Mexico.
Little Caraline Leon-Alcocar was sitting in her mother's car on Saturday evening when it was stolen from a city parking lot. The suspect jumped into the vehicle while Caraline's mother was filling water bottles just a few feet away.
The man sped off with the toddler in the backseat, prompting what turned into a five-hour citywide search.
Hundreds of locals volunteered to look for her and 30 minutes into the search, police found the car abandoned in a parking lot without the child inside.
"That ratcheted up the call to the biggest priority we could have," Simon Drobik of Albuquerque Police told the Albuquerque Journal.
It was just after 1am on Sunday, almost five hours into the search, when officer Chris Poccia spotted the young girl sitting alone on the ground in another parking lot in the city.
"I was using my spotlight, and I saw a ball of purple in the middle of a parking lot and thought it was weird," Poccia said. "I drove into the parking lot and immediately could tell it was our kiddo."
"I asked her if she was OK, and she said she was cold, and she was crying," he said.
Footage recorded on Poccia's body camera captured the dramatic moment and was released by police on Monday.
Police believe the suspect left the child before ditching the car, meaning Caraline was sitting in near-freezing conditions for more than four hours.
The man, who remains at large, is likely to face charges of kidnapping, child abuse, and unlawful taking of a motor vehicle.
The Albuquerque police department (APD) started using body cameras in 2012 after several deadly shootings by its officers.
A federal investigation found that APD "engages in a pattern or practice of use of excessive force, including deadly force" and its implementation of lapel cameras "has been highly inconsistent".
Alexandra Smith, legal director of the local ACLU chapter, said: "(Albuquerque) police use cameras when it suits them, and they don't when it doesn't", citing the case of Mary Hawkes, a 19-year-old unarmed girl who was shot in back by a police officer who didn't turn on the camera.
You can share this story on social media: