More than 10,500 unaccompanied minors streamed over US border over last 2 months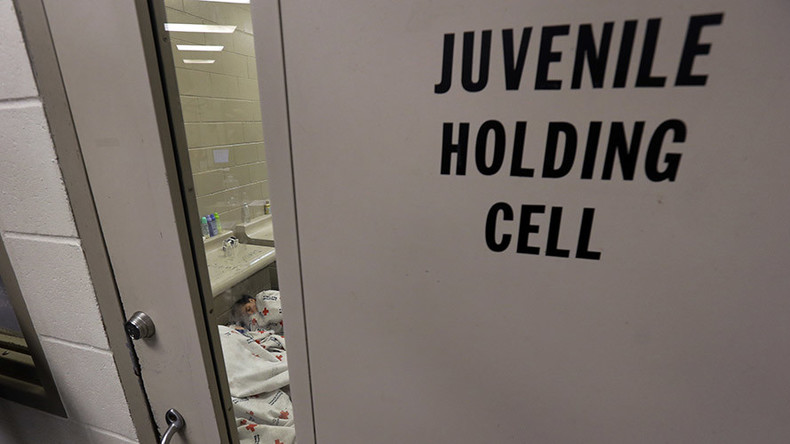 Over 10,500 children, mostly from El Salvador, Guatemala, and Honduras, crossed the US border in October and November, an increase of 106 percent from the same time in 2014. Now Congress is being asked to set aside $400 million more for relief programs.
The Migration Policy Institute, a non-profit think tank, provided the figures showing a giant spike in unaccompanied minors entering the US illegally, and demonstrating a consistent rise in crossings since March. Last year's overall figures were still higher, with more than 10,600 lone-traveling youngsters arriving in June alone. However, a rise in violence and troubles in Central America mean another large influx of migrants is all but guaranteed.
As an example, the homicide rate in El Salvador is as high as it has been in the 23 years since the country's civil war ended and much of the region is drought-stricken.
"This sharp increase in children entering this country is a result of many factors," Department of Health and Human Services (HHS) Secretary Sylvia Burwell to the House Committee on Appropriations wrote in a letter to the House Committee on Appropriations last week. "While it is impossible to know if these trends will continue for the duration of the fiscal year, we are very concerned about having adequate resources to meet the needs of the unaccompanied children."
Burwell requested an extra $400 million on top of the prior $950 million that was requested for contingency funding.
HHS recently opened a shelter equipped to hold 700 migrants, and another shelter will be opened soon capable of housing 300. Both are in Texas. HHS officials are considering a new facility to accommodate 400 migrants in California.
HHS joined with the Department of Homeland Security to release a statement asserting that the Obama administration "has been closely monitoring these current trends and coordinating across the whole of government to ensure an effective response to any changes in migration flows."
"We continue to aggressively work to secure our borders, address underlying causes and deter future increases in unauthorized migration, while ensuring that those with legitimate humanitarian claims are afforded the opportunity to seek protection."
Hundreds of Customs and Border Protection guards have been moved to the Rio Grande Valley in Texas, where most migrants trekked last year, but migrants are increasingly traveling further west, ending up in El Paso, Texas, or Yuma, Arizona.
On the state level, Governor Greg Abbott (R) instructed the Texas National Guard to hold their positions on the Mexican border on Tuesday.
In Central America, public service announcements and campaigns warning of treacherous border crossing paths have proven relatively successful, diminishing the amount of migration from mid-2014 to early 2015. However, the decline is more likely due to US-supplied equipment like scanners and vehicles that have been sent to Mexico for its new Southern Border Program. While this has cut off many Central Americans trying to reach the US through Mexico, it may also be driving an increase in the number of migrants trying to reach the US by boat via the Pacific Ocean or Gulf of Mexico.