Pro-Sanders heckler disrupts 'fascist billionaire' candidates in GOP debate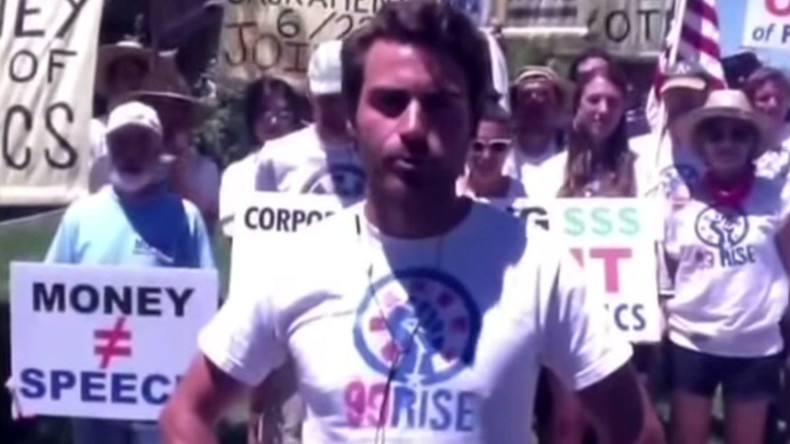 This week's final Republican debate was disrupted by supporter of Democratic presidential candidate Bernie Sanders, but you wouldn't know it from the media coverage.
Kai Newkirk's selfie video is going viral on the internet, where it lacks the gatekeepers of the big television and radio networks that failed to cover it.
He stood up during Tuesday's Las Vegas debate at the billionaire-owned Venetian hotel, broadcast on the billionaire-owned network CNN, to interrupt the billionaire and multi-millionaires arguing on stage.
Florida Senator Marco Rubio is the only GOP candidate who isn't a member of the two or three comma club, according to the CheatSheet.
"The American people deserve free and fair elections not billionaire auctions. Every candidate on this stage is either a fascist billionaire or has been bought by billionaire candidates," he shouts in the clip. "We demand an equal voice in democracy. We want an equal voice, regardless of wealth."
I just disrupted the #GOPDebate to call for free & fair elections not billionaire auctions. It's time for a #DemocracySpring If no Republican candidate or debate moderator will speak to the truth that our political campaign system is corrupt and call for reform to save our democracy then We the People will do it for them. Earned a lifetime ban from Sheldon Adelson's Venetian. #worthithttp://www.democracyspring.org

Posted by Kai Newkirk on Tuesday, December 15, 2015
Trump was briefly flummoxed by the heckle before continuing on in the debate.
Newkirk later claimed responsibility for the incident on his Twitter feed.
The left-wing rabble rouser is a supporter of Democratic presidential candidate Bernie Sanders and founder of 99 Rise, a campaign that claims to represent young people, homeowners, workers, families, immigrants, seniors, and "every other American sick of seeing their democracy serve only the interests of the 1%."
"We believe that only by getting big money out of politics - by winning a democracy that responds to the real needs of 'the 99 percent' - will we open the door to finally realizing the progressive promise of the American Dream," states the 99 Rise website.
Newkirk was escorted out of the audience by security, but not arrested. He says he received a lifetime ban from the Venetian, which is owned by GOP "mega-donor" Sheldon Adelson.
Newkirk previously appeared on RT to speak about his movement and last year organized a "March for True Democracy" in California.
The lack of coverage by the 'corporate media' of this disruption extends to the Bernie Sanders campaign, which complained earlier this month about a deliberate blackout of their candidate.