Cop shoots at woman attempting to run him down, both survive (VIDEO)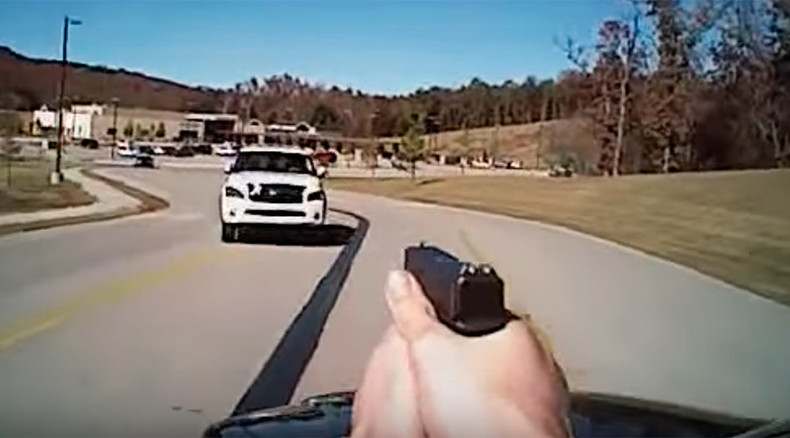 New body camera footage released by police in Oklahoma shows a woman in an allegedly stolen SUV driving directly at a police officer, who fires two rounds to stop her. Both escaped without serious injury.
Master Patrol Officer Matt Stacy, a five-year veteran of the Sand Springs Police Department, had arrived on the scene at the Northwood Fine Arts Academy to set up a tire spike system to stop Stacey Ann Bunsey, 41, who was driving the stolen vehicle through a parking lot. As Officer Stacy exited his police cruiser at the entryway of the lot, the video shows that Bunsey accelerated in his direction, narrowly missing him while smashing into his squad car.
Footage from Stacy's body camera, released Monday by the Sand Springs Police Department, shows the officer firing twice at the vehicle as Bunsey drove straight at him.
The Sand Springs police said that "when it became apparent to the officer of the suspect's intent, he fired his weapon after shouting twice for the suspect to stop," according to KJRH.
Police added that Stacy's "first round struck the suspect vehicle in the hood and windshield the second round struck the officer's doorframe. Both rounds were accounted for at the crime scene and did not involve the school which was over one tenth of a mile away."
Sand Springs police said the body camera footage proved once again that officers should wear equipment that can prove when a cop who fires a weapon at a suspect has done so out of a fear for individual or public safety.
"This is one more instance in which we can validate the support we receive from public that our officers provide policing in a professional and courageous manner even in the face of an event which could have had deadly consequences," police said.
Officer Stacy was taken to a hospital for treatment to minor injuries after the incident. Bunsey was tased by police and arrested on complaint of possession of a stolen vehicle, eluding a police officer, assault and battery with a deadly weapon on a police officer, driving under the influence of drugs first offense, and resisting arrest.
Bunsey allegedly said during her arrest that she was God, "along with other random remarks," and exhibited "uncontrolled movements throughout her body and jaw," according to arrest documents obtained by NBC News.
Bunsey had stolen the vehicle from Don Thornton Cadillac in Tulsa, Oklahoma, KJRH reported.
Body-camera use among law enforcement has soared ever since the civil unrest that followed the controversial fatal shooting of unarmed black teenager Michael Brown by a white police officer in Ferguson, Missouri, last year.
Surveys in recent years have indicated that around 25 percent of the 17,000 police agencies in the US are using body cameras, while many more are considering their use.


The Guardian has counted nearly 1,000 people killed by law enforcement in the US in 2015, while KilledByPolice.net puts that number at 1,018. As for strictly shooting deaths, the Washington Post has counted 840 people fatally shot by police officers thus far in 2015.
The US government does not require, or maintain, a comprehensive record of how many people are killed by police. The FBI runs a voluntary program in which law enforcement agencies may submit their annual count of "justifiable homicides," defined as "the killing of a felon in the line of duty."
Last December, President Barack Obama announced that he was seeking $263 million to, among other things, purchase 50,000 body cameras for police across the US.