'Inefficient' US deportation policy revealed in new report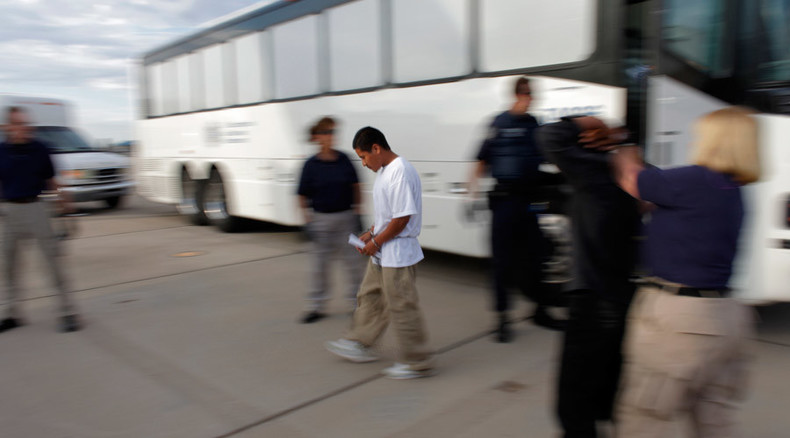 The issue of immigration is bigger than ever, but the ins-and-outs of America's deportation system have been largely unknown. That could change now that an intensive report is out showing the effects of deportation and the Criminal Alien Program.
Although top Republican presidential contender Donald Trump is widely seen as the driving force behind potential mass deportation, he would still have to rely on the same system President Barack Obama used to become known as "deporter in chief" during his first term. That's because, according to the American Immigration Council, the status-quo deportation policy remains "overbroad and arguably inefficient."
The American Immigration Council, a Washington, DC-based non-profit organization that promotes immigration and defends immigrants' civil rights, used Freedom of Information Act (FOIA) requests to report on the Criminal Alien Program (CAP), which is enforced by US Immigration and Customs Enforcement (ICE). What they found offers a different picture than the one crafted in political speech from the White House or on the campaign trail.
ICE documents for fiscal years 2010 through 2013 (or October 1, 2009 to August 17, 2013) reveal state-by-state immigration enforcement inconsistencies as well ineffective prioritization for deportation, according to the American Immigration Council. Deportations often stem from Secure Communities reports, a program where local and state authorities hand jail logs of "potential noncitizens" over to the feds, regardless of whether they've been charged with anything.
Out of the 600,000 or more "potential noncitizens" annually reported to the Department of Homeland Security, a significant number designated for deportation never end up convicted of any crime.
The number of non-serious, non-violent illegal immigrants being deported each year is down from the record highs of over 400,000 a year during the period from 2008 to 2012, which gave Obama the nickname "deporter in chief." Obama has deflected some of the political mud thrown his way through recent executive orders, but his stated goals of targeting dangerous undocumented immigrants aren't being met.
"At the top are criminals, people who pose a threat, and at the bottom are ordinary people who are otherwise law-abiding," Obama told a Nashville, Tennessee audience in December 2014, describing who would be prioritized for deportation.
The CAP arose from "jail checks," which were designed in 1988 to expel illegal immigrants convicted of serious crimes. The program has grown – as has the bureaucracy overseeing it. Congressional appropriations went from $6.6 million in 2004 to $180 million in 2008, an increase of about 300 percent. After 2013, the budget for the Secure Communities program was steered toward CAP, amounting to $322.4 million in fiscal year 2015.
From fiscal years 2010 to 2013, just 3 percent of "encounters" – direct or indirect federal government check-ups on "potential noncitizens" – ended in the deportation of violent or FBI-defined "serious" criminals. The total number of people encountered during that time was 2.6 million, while deportations through the program totaled 508,000.
ICE calculates that of all those deportations, 27.4 percent were "not 'definite criminals'" and 20 percent had "traffic offense" listed as their "most serious" criminal conviction. "Other crimes" made up 24 percent, while "dangerous drugs" totaled 18 percent. Six percent of deported illegal immigrants had "assault" as their top offense, and lastly, 5 percent were ejected from the country for "immigration" convictions. About 80 percent of those deported had committed lesser crimes than those defined as violent or serious by FBI standards.
Of those convicted of serious crimes, 1.7 percent were burglars, 1.6 percent robbers, 1.5 percent rapists or other sexual abusers, half of 1 percent had been convicted of homicide, 0.4 percent were kidnappers, and one-tenth of 1 percent had been convicted of arson.
What's more, high concentrations of deportations occurred where smaller concentrations of immigrants lived, according to the report. States such as Kentucky, Mississippi, West Virginia, and Wyoming had some of the highest rates. Texas and Arizona have large immigrant populations and high deportation rates, but their rates aren't replicated in California, likely because so-called undocumented immigrants are in fact documented in the state with driver's licenses, making it less likely for them to be taken to jail.
More than one out of four people deported had no convictions. In 2010, over a third had no criminal record.
This month, a CBS News-New York Times poll showed 69 percent of Americans favored a path to citizenship or a legal status for illegal immigrants, while 26 percent favored deportation. However, poll figures can be contradictory, as in August an NBC poll found 53 percent of Republicans approved of a path to citizenship or legal status, while in the same month an Investor's Business Daily-TIPP poll reported that 59 percent "support mandatory deportation."
The divisive issue has entrenched both sides, but clearer information regarding who is being deported, along with why and how, might move those in the center, and ultimately policy, according to the report.