In God We Trust? Texas man protests new police car message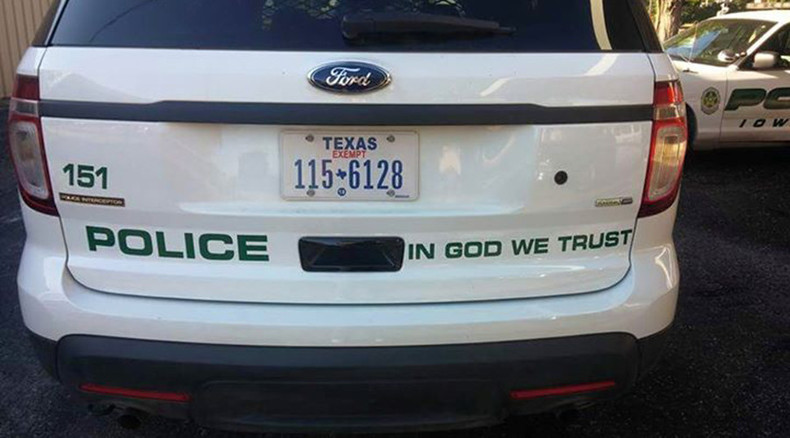 A Texas man has joined the fight against 'In God We Trust' decals on the police cars. Governor Greg Abbott has signaled support for the message, which the San Juan Police Department and others say is referring to assaults on police across the country.
Rick Ramirez of San Juan, Texas ‒ a town of more than 30,000 residents in the Rio Grande Valley ‒ called for the message to be removed from police department vehicles, citing the separation of church and state, at a Tuesday evening city commission meeting.
"If one of his officers wanted to put a sticker from his own religion, say Muslim, say Jewish, say even Satanist religion, and they would say, 'I want my sticker, even if it is of the Santa Muerte,' would he, Chief Gonzalez, approve of it?" Ramirez asked during the commission meeting, according to KGBT. He has requested the city commission consider removing the messages from police vehicles.
San Juan Police Chief Juan Gonzalez offered KGBT a written statement in response, saying officers were able to obtain the decals at no cost to the city.
"We are not trying to make any type of statement. It was just the right thing to do in my opinion," Gonzalez said.
Ramirez's request comes on the heels of a similar demand made of another Texas police force. The Childress Police Department in northeastern Texas has received criticism from the Wisconsin-based group Freedom From Religion Foundation, which sent a letter to the agency and dozens more police departments in various states voicing objection to the attachment of "In God We Trust" to government-owned police vehicles, according to the Los Angeles Times.
Adrian Garcia, chief of the Childress Police Department responded curtly to the atheist organization.
"After carefully reading your letter I must deny your request in the removal of our Nations [sic] motto from our patrol units, and ask that you and the Freedom From Religion Foundation go fly a kite," Garcia wrote in a letter, which was also posted on the department's Facebook page.
Freedom From Religion head Annie Laurie Gaylor said her group, which boasts around 23,000 members, was not surprised by the rejection.
"We have had a few successes, like when it was suggested the motto go up in city chambers," Gaylor told the Los Angeles Times in late September.
Gaylor added that the spike in police departments adding the motto to police vehicles across the US correlates with scrutiny placed on law enforcement in the wake of deadly, high-profile incidents of police brutality and racial profiling across the country, including in Ferguson, Missouri, and Cleveland, Ohio.
"I think there is no question that police and sheriff's departments are wrapping themselves in the mantle of piety," Gaylor said. "Police are feeling criticized so they react to this criticism by sticking God on their cars. Monkey see and monkey do all over the country; it is so anti-intellectual imagining that God will protect them."
READ MORE: 'I am not resisting': Brutal police arrest of innocent black student sparks protests in DC

Garcia announced the introduction of the decals days after a Harris County deputy sheriff was shot dead in suburban Houston on August 28.
"I had to share this with the public. Notice what I will be putting on all Childress Police patrol units," he said on the department's Facebook page.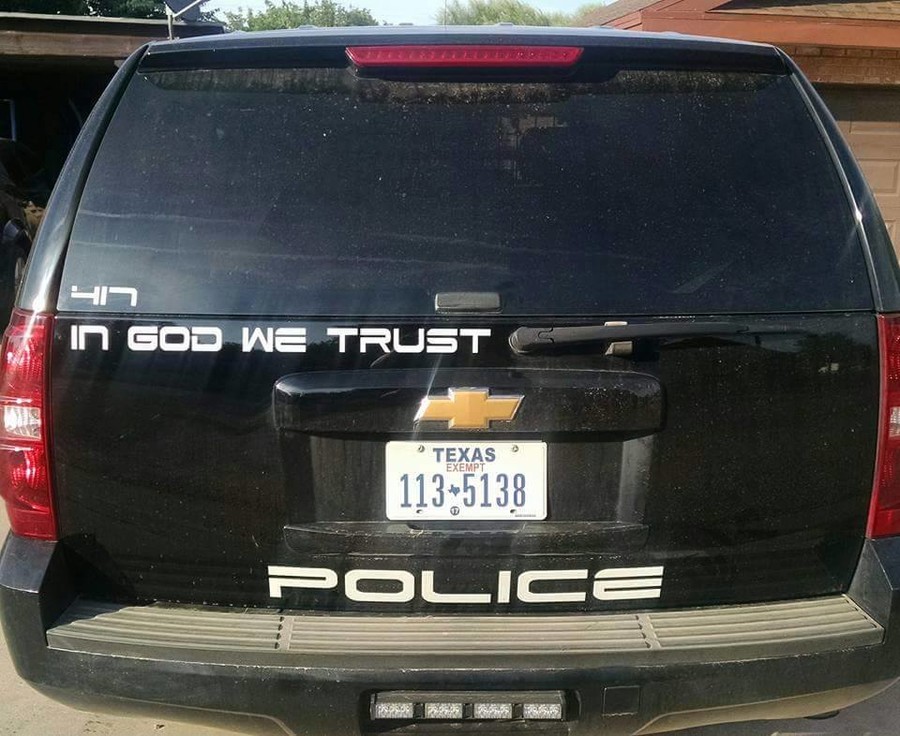 Garcia told the Red River Sun in early September that the decals were related to "all the assaults happening on officers across the country."
"It's time we get back to where we once were," Garcia added in the interview.
The chief's "go fly a kite" message to critics has inspired other police forces to obtain decals.
"I believe the First Amendment gives us the right to worship our creator the way that we want to, our country was founded on God," Hunt County (Texas) Sheriff Randy Meeks told KLTV. "It's time for us to make a stand and get back on track."
Last week, a state representative and state senator who represent Childress asked Texas Attorney General Ken Paxton to issue an opinion on the legality of the decals on police cars. Paxton has previously voiced support for the policy, according to the Austin American-Statesman, saying on Facebook that it "represents a historical premise on which our great nation was founded."
While Paxton has until April to issue a nonbonding opinion, Governor Abbott wrote a letter to the attorney general saying he supported the policy.
"As the Supreme Court has held time and again, the Constitution commands acknowledgement and accommodation of religion, rather than hostility towards religion," Abbott wrote Monday. "Given these well-established principles, it is unsurprising that 'In God we trust' has survived every legal challenge."