Dad uses dummy to 'prank' girlfriend into thinking son died in explosion ‒ but was she in on it?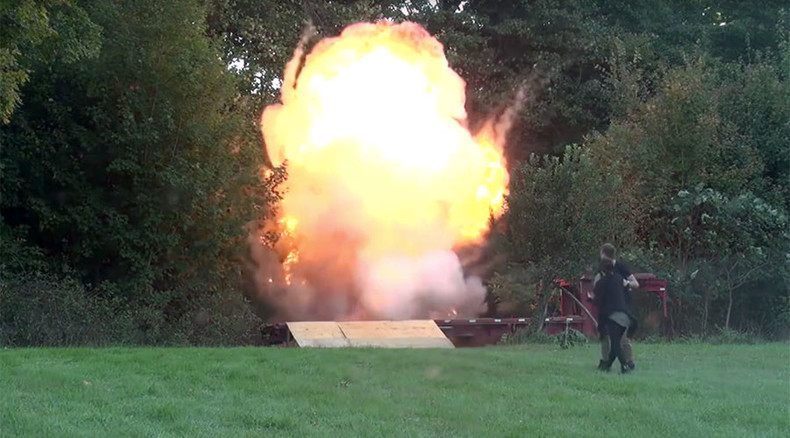 A YouTube prankster pulled a fast one on his girlfriend by pretending that their son had been blown up in a quad biking accident, but some are questioning the authenticity of the prank and her reaction.
Comedian and YouTube star Roman Atwood posted a video, called "Blowing up my kid PRANK!!!," of an elaborate stunt to scare his girlfriend, Brittney Smith.
He begins the prank by telling Smith that he and his 3-year-old son had been testing a quad bike and that they really wanted to buy it.
He asks his girlfriend to fetch the checkbook from the car, and then replaces his son with a dummy wearing the same clothes and helmet.
As she returns, Atwood pretends that their son has lost control of the quad bike as it speeds off, though ‒ unbeknownst to Smith ‒ it was being operated by remote control. The pair runs after their son, but are unable to catch the runaway all-terrain vehicle before it launches off a ramp into a spectacular explosion.
When the crying mother runs toward the carnage, she becomes aware that she was victim of a cruel prank.

"It's not funny, that's not funny," the furious Smith says, before giving Atwood a hard kick.
"Don't touch me, I'm done. I'm done, honey, I can't do it."
The video has over 5 million views just after two days of being uploaded, and many suspect that the video and the supposedly horrified reaction of Atwood's girlfriend were staged.

"the explosion was too much... that made it too evident, she knowing roman is a prankster... even she knew beforehand or she realised [sic] it at explosion time, but her expression was really unrealistic," one YouTube user wrote in the video's comment section.
Adding to the skepticism of many is the fact that Atwood had previously performed a similar prank on Smith where he pretended to accidentally throw his son off a balcony in 2014, titled "Killing My Own Kid PRANK!!"