PlayHouse: Struggle for new House Speaker is actually pretty funny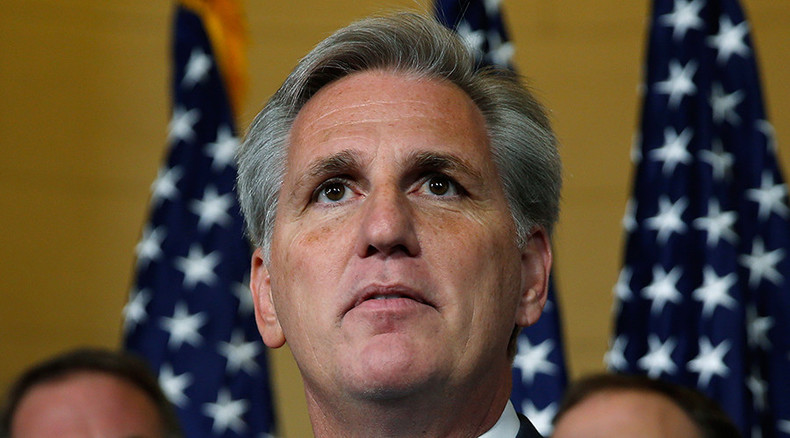 Republicans in the House of Representatives are at a standstill in the chaotic search for a new Speaker. Or running around like chickens with their heads chopped, off depending on your perspective. Either way, they are leaving lots of room for comic relief.
House Majority Leader Kevin McCarthy (R-California) shocked Americans this week when he announced that he would drop out of the race to become Speaker of the House after John Boehner (R-Ohio) leaves the post in October.
His decision has been widely attributed to a few dozen extremely conservative members of the House's right wing, known as the House Freedom caucus, who want someone willing to be more "confrontational" with President Barack Obama, but it's unclear who, if anyone, can step in to unite the fractured GOP caucus.
As a result, many Republicans have taken McCarthy's sudden departure quite hard.
While Representative Paul Ryan (R-Wisconsin) thinks and prays about jumping into the race, Representative Jason Chaffetz (R-Utah) and the Freedom Caucus-backed Representative Daniel Webster (R-Florida) are the only prospective candidates left to choose from. And almost nobody is choosing them.
Thankfully, the position isn't limited to members of the House. And, now that much more interesting (and hilarious) people are being suggested, who knows? Maybe a true outsider will step in to answer the beck and call of the internet.
Naturally, it was the Democrats who were the first to make a joke of the Republicans' sufferings. Mark Takano (D-California) posted a Craigslist ad asking, "Do you have experience negotiating hostage situations?" and detailing responsibilities like "managing multiple investigative committees aimed at attacking Hillary Clinton."
Takano was delighted with the response, urging more people to apply via email to TheNextKevinUnderwood@gmail.com. Hunt or be hunted, job seekers!
And speaking of Hillary Clinton, did you know Kevin McCarthy is a strong supporter? Well, not that Kevin McCarthy. But this other one is about as quick with the quips as his barber with a buzz cutter:
That wasn't the real Kevin McCarthy, but one YouTube user claims to have found the REAL reason the real Kevin McCarthy gave up his all-but-certain promotion:
There are reports to confirm it, but maybe watching that video was what led Representative Mike Turner (R-Ohio) to release this special message:
As Republicans tried to smooth things over, all Representative Charlie Rangel (D-New York) could do was sit back and watch the unfolding chaos. He's one smooth(ie) operator:
"I think it's rather silly talk," one former congressman responded when asked about growing demand to bring him back. No, not Newt Gingrich (he's actually open to the idea). Ron Paul is the one resisting a grassroots draft effort, saying, "It's entertainment. I don't want to be part of the entertainment."
Although there is a case to be made for a non-partisan outsider to come in, Paul shouldn't worry very much. There's another much stronger candidate guaranteed to suplex the competition, put it in the Camel Clutch, and um...make Congress humble:
On second thought, maybe this whole game needs to end. One tweet's video forces us all to answer the fundamental question: Who needs a Speaker of the House anyway?