Hospital kicks out 800-pound man for ordering pizza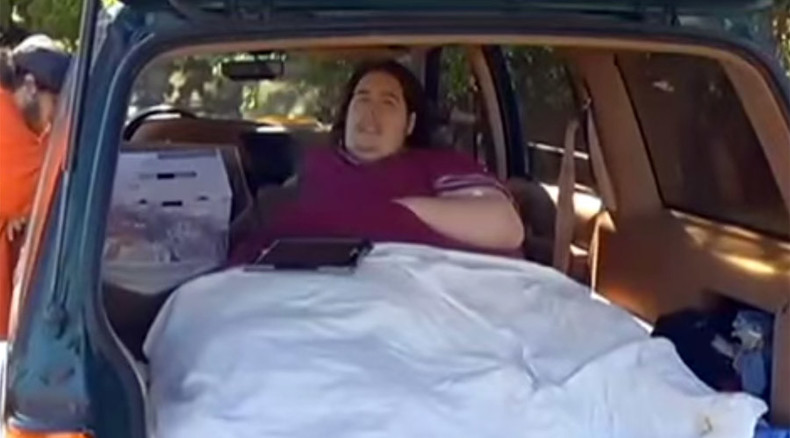 A pizza is exactly what the doctor didn't order, so when a morbidly obese patient did exactly that, he was forced out of the hospital. Now he's looking for help elsewhere.
"It's an addiction and I realize that. It's a disease," is how 778-pound Steven Assanti described his condition to WJAR after losing about 20 pounds and his bed at Rhode Island Hospital. He was supposed to stay on the hospital diet program until he weighed 550 pounds, at which point gastric bypass surgery would be plausible.
Pizza, though, was not on the diet menu.
Assanti, 33, had built a following on YouTube with comedic videos of himself dancing to pop songs like "My Humps," but now he's reaching higher. On Thursday, Assanti posted a Facebook video message that said, in part: "I just want to say Rosie O'Donnell inspires me, because she had weight loss surgery, and I'd like to know how she did it. So, I'm not being a stalker, but call me girl!"
There's been no word yet on O'Donnell's response, and the same goes for the other more immediate requests for help, such as where Assanti will stay through the weekend. When he was ejected from the hospital Tuesday, his father, Steven Veillette, picked him up in a small SUV that would temporarily serve as his overnight shelter.
Assanti is currently staying at Kent County Hospital in Rhode Island, and a social worker is reportedly trying to secure him a bed there for the weekend, according to WBZ. A potential long-term solution might be an apartment complex in North Attleboro, Massachusetts, the father said.
In a recent study of 8,815 bariatric surgery patients, most of whom had the gastric bypass type, about 1.3 percent of those people were later hospitalized, often under emergencies, for physically harming themselves. The study found that depression that existed before the obesity remained after surgery, doing even more damage to the psyche of the patient trying to recover.
About 6 percent of Americans are morbidly obese, and, with those figures on the rise, the lack of sufficient mental health care in America may be the 800-pound elephant in the room.