Videos show moment French train hero Spencer Stone stabbed during melee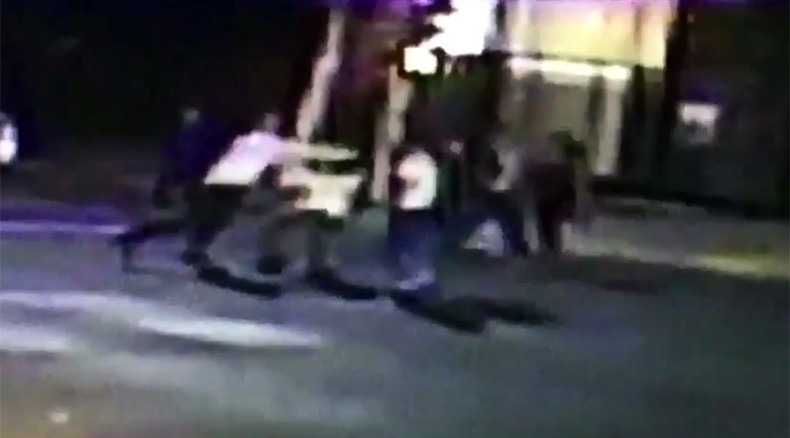 Surveillance videos captured the fight between Spencer Stone, one of the heroes who prevented a terrorist attack in France, and at least three to six other men in a Sacramento, California intersection.
In two grainy videos, Stone, 23, can be seen wearing a long-sleeved white shirt and towering over the group he is brawling with. They spill out from what appears to be a nightclub to the street corner, then into the intersection. Stone is swinging wildly at the other men.
"It looks like it's one against six, but you can't really tell," Bryan Romandia, the manager of A&P Liquors, told reporters. The store's security camera recorded the fight from across the intersection. "It looks like a big old scrum."
A bank and several other businesses nearby have cameras that police will check as well, Sacramento Bee reporter Tony Bizjak tweeted.
Then a man in a white polo or T-shirt and jeans lunges at Stone, then pulls back. Almost immediately, a large pool of blood appears on the Airman's left side.
The group disperses at that point, and Stone half jogs, half walks back towards the nightclub. He never collapses.
Police said the 23-year-old, who gained fame over the summer when he and his friends stopped a terrorist attack on a train in France, was stabbed multiple times.
Stone, a Sacramento native, was taken to UC Davis Medical Center, where he was listed in serious condition. Among his injuries, he suffered from a collapsed left lung, CBS News reported.
He is expected to survive.