Anonymous-linked journalist found guilty on hacking charges, faces up to 25yrs in jail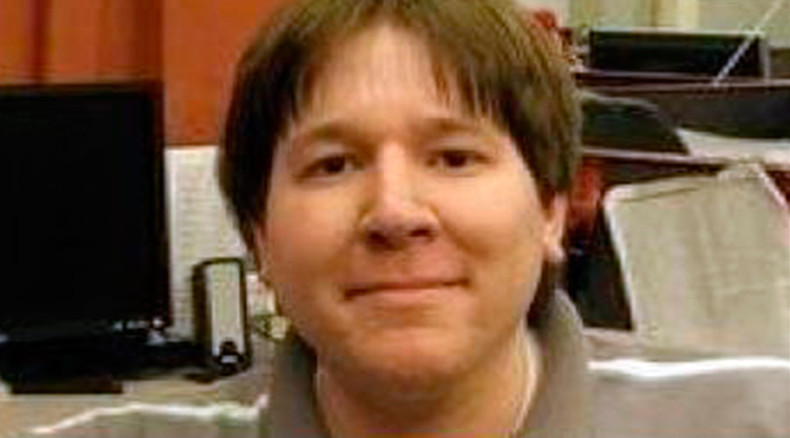 Matthew Keys, a US journalist accused of helping Anonymous hacktivists to attack his former employer's website, has been found guilty of three federal counts of hacking. Keys plans to appeal the verdict that could land him in prison for up to 25 years.
Keys is set to be sentenced in a federal court in Sacramento, California on January 20, 2016.
The felonies that Keys has been convicted of are related to sharing log-in credentials for the Tribune Media Co., the owner of the Los Angeles Times and KTXL FOX 40's TV station, where Keys worked as a web producer five years ago.
The Department of Justice claims that Key supplied members of the hacktivist collective Anonymous with a login and password to the parent corporation's computer network after being fired from the Sacramento-based television station.
In 2013, Keys was indicted for "one count each of conspiracy to transmit information to damage a protected computer, transmitting information to damage a protected computer and attempted transmission of information to damage a protected computer."
READ MORE:Reuters journalist indicted over Anonymous hack
The journalist briefly reacted to the latest decision by tweeting "That was bulls**t" amid an outpouring social media support.
Keys has been supported by Edward Snowden who expressed his disappointment on Twitter.
"I'm not sure any quantity of years is going to sound appropriate for a crime whose impact was measured in minutes," he said replying to a comment.
Two years after being indicted, Keys continues to deny the charges.
"[AESCracked] was the name that I used, and other names, in observing not just them but other hackers within Anonymous, and I admit that I didn't know very much about IRC back then," Keys told Ars Technica news. "That was one of several names that I used, but it wasn't locked down, it wasn't registered and it looks like somebody did use it. It was connected to an IP address that wasn't mine. The FBI agent admitted that he didn't have any records of [that IP address]."
Keys claims that by December 2010 he had no access to the Tribune Media system since he hadn't work there for three months.
"There is no question about what this case is, none. This is about them approaching a journalist and then deciding to profile that journalist as a criminal," Keys added.
Keys' defense argues that no real damage was caused to Tribune Media and accuses prosecutors of stretching the Computer Fraud and Abuse Act beyond its intent, Politico reports. The lawyers claim that the "computer damage" charges are unsustainable as "the vandalism was short-lived."