Pilgrim's shame: Largest chicken producer in US sued for refusing to hire blacks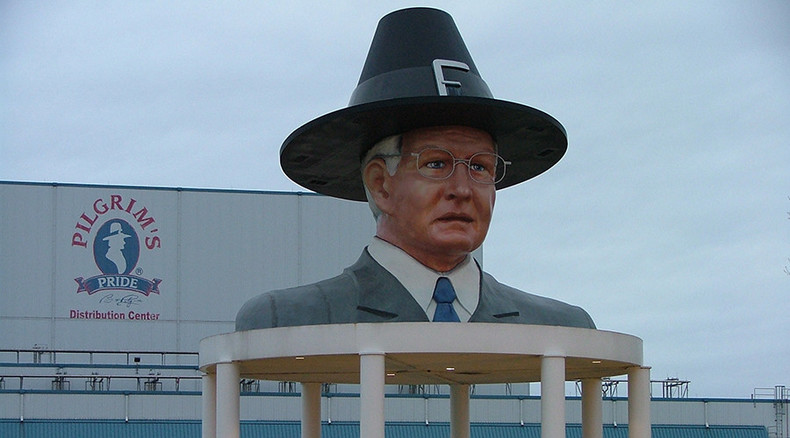 The Department of Labor (DOL) is accusing Pilgrim's Pride, the nation's number one chicken supplier, of purposefully refusing employment to black applicants. This is the second discrimination lawsuit brought against the company in recent weeks.
The Office of Federal Contract Compliance Programs (OFCCP) launched a lawsuit on Wednesday on behalf of African-Americans who were found qualified for jobs at a Pilgrim's Pride plant in Marshville, North Carolina by the DOL, but were refused hire. The OFCCP had already filed a separate lawsuit against the company on September 15 over discrimination against black, white and female applicants in Athens, Alabama.
Between 2007 and 2011, Pilgrim's Pride secured federal contracts worth more than $36 million. Federal law prohibits discrimination based on "race, color, religion, sex, sexual orientation, gender identity, national origin, disability or status as a protected veteran" for any business that contracts with the federal government.
"OFCCP will use every action available by law, including canceling Pilgrim's federal contracts if necessary, to ensure workers are treated fairly," OFCCP Director Patricia A. Shiu said in a news release.
Both lawsuits are seeking a court order requiring Pilgrim's Pride to employ the rejected applicants and retroactively pay them the wages they would have earned had they been hired in the first place, plus interest and other benefits.
Last week, Home Depot settled a sex discrimination lawsuit after the DOL accused the company's Pomona, California store of placing 46 women in cashier positions instead of the sales positions for which they had applied and were qualified. Those women will each receive a share of an $83,000 payout.
In May, the American Civil Liberties Union requested that the Equal Employment Opportunity Commission (EEOC) look into possible sex discrimination by Hollywood studios in the hiring of female directors. The EEOC has sent letters to about 50 female directors and will meet with them next week to discuss if any action needs to be taken, according to Deadline.com.
In another case of alleged workplace discrimination, the EEOC is suing Austin's Park and Pizza, an amusement park in Pflugerville, Texas, for firing a mentally disabled man instead of accommodating his disability. The former employee had worked there for four years until a new time log system was implemented, which was purportedly difficult for the man to use.