Massive tanker truck explodes on New Jersey turnpike (VIDEOS)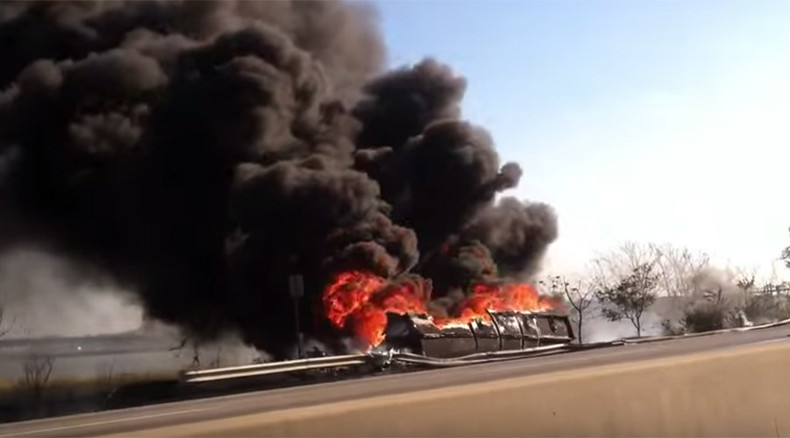 With smoke visible from New York City, emergency vehicles and firefighters attended to a tanker truck that reportedly flipped over a guardrail and burst into flames Tuesday afternoon on the New Jersey turnpike.
New Jersey State Police said the driver of a Honda CRV involved in the accident with the tanker was okay but may have sustained minor injuries in the crash, according to the New Jersey Star-Ledger.
The driver of the truck has not been accounted for, and it is not known what the tanker was carrying.
The crash occurred on the northbound side of the turnpike in Kearny, New Jersey, causing the lane to be shut down. Southbound lanes remained open, providing for some dramatic scenes of the crash site.
Footage shows the tanker truck on its side and in flames, with smoke billowing into a huge thick, black cloud and spread over what looks like the length of several fire trucks, or more than 100 feet.
In helicopter footage, it appears the seams of the tanker split apart when whatever it was carrying ignited.
In another video, a mattress and a box spring were visible near the accident scene propped up against the barrier State police say it's not known where they came from, nor if they contributed to the accident.
The fire raged for nearly an hour and a half before being extinguished by emergency crews using foam trucks shortly before 5pm, according to NBC.
Tanker truck fire snarls traffic on New Jersey Turnpike: but it's not clear if the tanker truck or any other v... http://t.co/5OIAwNU3fZ

— Social Media Chicago (@socialstraffic) October 7, 2015