4 people injured in explosion at Pasadena, TX chemical plant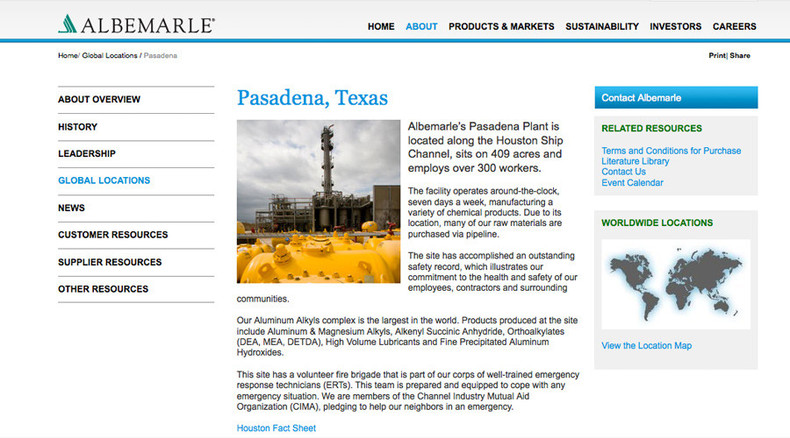 At least four people have been injured in an explosion at a plant in Pasadena, Texas, according to local police.
The site belongs to Albemarle Corporation. According to the company's website, the plant manufactures "a variety of chemical products" and "many of our raw materials are purchased via pipeline." It is located along the Houston Ship Channel.
At least one of the injured workers, a 42-year-old male, has been taken out by life flight with chemical burns to his face and chest, KTRK reported.
The plant employs over 300 workers and operates seven days a week.
There is no threat of chemicals being released into the community, Vance Mitchell of the Pasadena Police Department told KPRC. The fire has been extinguished.
Investigators are trying to determine what caused the explosion.
In November 2006, the same plant had a fire caused by a valve leak on a rail car during a test of aluminum alkyls samples, the Houston Chronicle reported. That incident injured one worker and briefly shut down the Houston Ship Channel.
A decade earlier, a fire broke out and burned for 24 hours before it was extinguished.
You can share this story on social media: