Airline apologizes for preventing wounded vet from boarding flight with service dog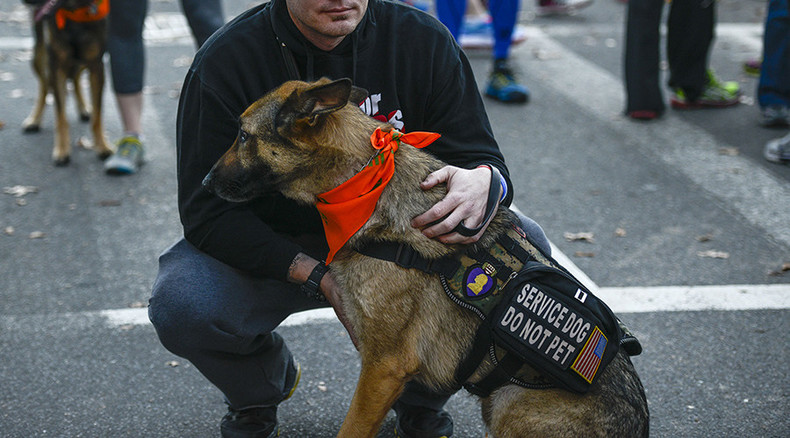 American Airlines has apologized to a wounded veteran after initially preventing his award-winning service dog to board a flight with him on Sunday.
Captain Jason Haag, a Marine Corps veteran, and his dog Axel had flown American Airlines from Fredericksburg, Virginia, to Los Angeles on Thursday for the American Humane Association Hero Dog Awards, where Axel was recognized as the National Service Dog of the Year, a local ABC affiliate reported.
The veteran, who suffers from post-traumatic stress disorder (PTSD) and is a recovering alcoholic, was paired with the dog in 2012 through K9s for Warriors, a group that connects disabled veterans with service dogs.
However, the same airline wouldn't let Haag fly back.

"The first thing this guy asked me is, 'Is that a real service dog?'" Haag told ABC "I just find that question kind of odd because nobody at the airport has asked me that and I fly all the time. I said, 'Yes.'"
He was then asked to identify his disability and provide "paperwork." However, Haag couldn't provide it because he never carries it with him, as it is illegal under federal law to ask for it.
"I don't carry it because I've never had issue," he said.
The Marine also said that he and his wife had been waiting at the gate area for two hours with their dog and were never questioned ahead of time, even though Axel was wearing a service dog vest and harness, in full compliance with the airline's policies.

"It was extremely upsetting," he told ABC. "It was disrespectful. If I wasn't as far along in my recovery from PTSD, this would have set me back years. It would have put me back in my basement where I was three years ago."
The couple missed their flight, which was rebooked by the Humane Society, in addition to a hotel room for another night.
American Airlines issued an apology to Haag on Monday.
"We apologize to both Captain Haag and his family for the confusion with the travel plans, yesterday. Thank you, Captain Haag, for your service to your country. We are extremely proud to fly you, Axel and your family," said American Airlines spokeswoman Victoria Lupica.
The Humane Society used Haag's experience as an example of airlines needing better training to deal with service animals.
"In this case, the airline did not even follow its own guidelines," said Dr. Robin Ganzert, president and CEO of American Humane Association in a release. "We call upon the company to reimburse the costs endured by Captain Haag in the course of this regrettable action, and on all airlines to better train their staff."