Raging monsoon with dazzling lightning strands drivers, cuts power in Arizona (PHOTOS, VIDEOS)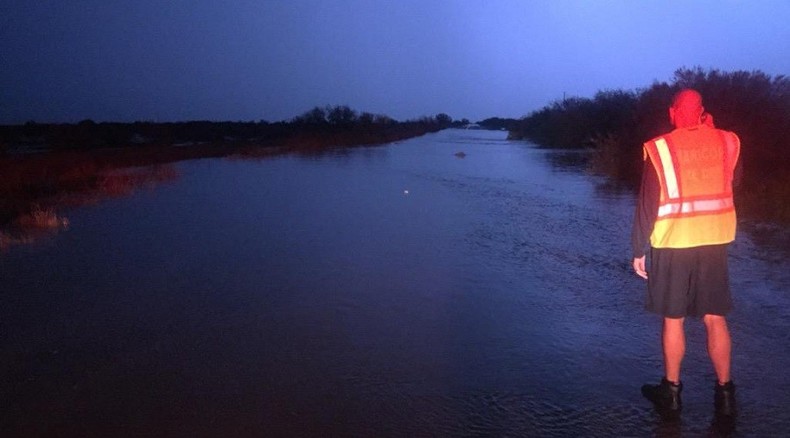 A stormy monsoon rolled through the Phoenix, Arizona area Sunday evening, bringing with it flooding, lightning and power outages. Social media exploded with photos and videos of the dramatic weather.
State Highway 238 flooded in 20 to 30 different locations as two inches of rain swamped the normally dry washes along the road, stranding motorists.
"About eight washes got 3 to 4 feet of water," Maricopa Fire Department Battalion Chief Ken Pantoja told KPHO. "We had eight to 10 vehicles in the washes with about 20 victims."
Crews rescued as many as 30 people from vehicles.
"They were driving through and the next thing they knew they had water through the washes," Pantoja said. "They were trying to maneuver through the washes."
The monsoon didn't just cause flooding, though. It also buried roads in 2 to 3 feet of mud, tree branches, rocks and other debris.
In Buckeye, the westernmost suburb of Phoenix, approximately 4,000 residents lost power due to "storm-related activity," according to Arizona Public Service Co. Nearly 300 people in Tonopah, about 50 miles (80 km) west of the state capital, were without power as well.
Up to an inch of rain fell over the White Tanks Mountain, and rainfall runoff could cause possible flooding in much of Maricopa County, the National Weather Service said.
Before the monsoon swept through, much of the Salt River Valley and northern Pinal County ‒ southeast of Phoenix ‒ faced a blowing-dust advisory.
The Phoenix metropolitan area could receive more rain and flooding Monday and Tuesday due to a 30 percent chance of showers, according to the NWS.
You can share this story on social media: