100-acre wildfire prompts evacuation at California mountain resorts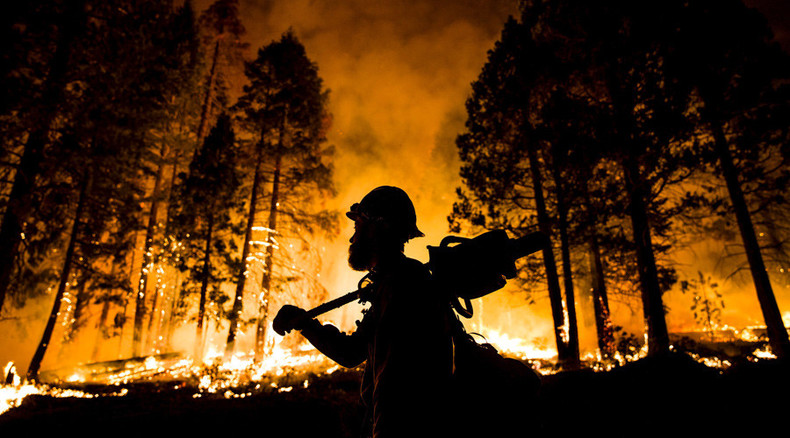 A 100-acre wildfire in California's San Bernardino Mountains has triggered mandatory evacuations near Snow Summit Ski Resort at Big Bear Lake, a popular outdoor destination for tourists. The Summit Fire was about 30 percent contained as of early Monday.
A containment crew of around 300, including planes and helicopters making water and retardant drops, are working to beat back the Summit Fire, which began in a timber area early Sunday afternoon near Snow Summit Ski Resort south of Big Bear Lake. Water cannons usually used to manufacture snow are being used to blunt the fire, the Associated Press reported.
Up to 500 homes, many of them vacation or part-time housing, received evacuation orders, according to the San Bernardino Sun. Big Bear Lake is approximately 100 miles east of downtown Los Angeles.
The cause of the fire is still under investigation, according to the US Forest Service. Though conditions in the area are currently warm and dry, there is a possibility of rain on Monday.
Several fire-fighting agencies are assisting with efforts to snuff out the blaze, including the US Forest Service, Big Bear Fire Authority, the San Bernardino County Fire Department, the San Bernardino Fire Department, California Department of Forestry and Fire Protection, and the Rancho Cucamonga and Corona fire departments.
Roughly 10 kilometers to the south of Big Bear Lake, 31,359 acres of land in San Bernardino County has burned amid what was dubbed the Lake Fire. That blaze began on June 17 and is about 98 percent contained, according to the US Forest Service. The Lake Fire investigation is ongoing, but is believed to have been caused by human activity.
In 2015, around 7 million acres across the US have burned as a result of wildfires, with more than 5 million of those burned acres in Alaska, according to the National Weather Service.

The US Forest Service has already battled more than 40,000 individual fires in 2015. For the first time in its history, more than half its budget is being allocated towards wildfires. That means that hundreds of millions of dollars are not going towards other agency projects, including initiatives that could potentially prevent fires from igniting in the first place.

The US Army said last week that it would send 200 troops to help firefighters with containment of various blazes across western states. That deployment would mark the first time since 2006 that US soldiers were used to fight wildfires.