Dow Jones, Nasdaq face worst weekly losses since 2011 after yuan devaluation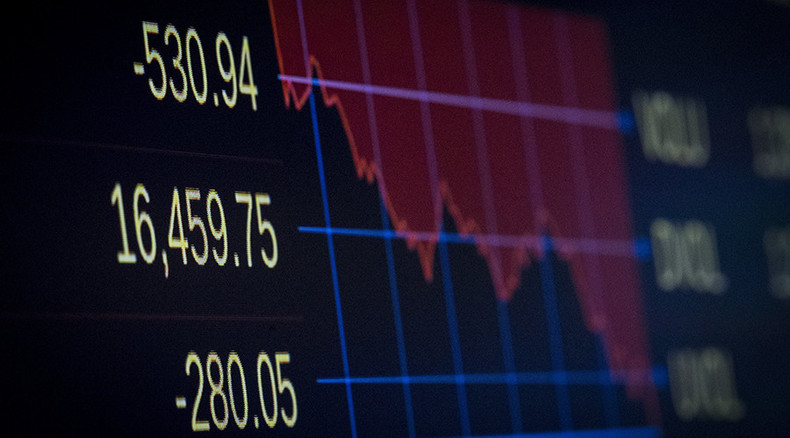 The Dow Jones industrial average suffered its worst loss in five years after the market plunged into a correction on Friday. Stock markets around the world lost value amid concerns over the global economy.
The Dow plunged nearly 531 points ‒ 3.1 percent ‒ to close the day at 16,459.75. The blue chip index is down more than 10 percent from its record high in May. With that drop, the Dow entered a correction, or a reverse movement of 10 percent to adjust for an overvaluation. The index dropped 5.8 percent this week.
"Right now there is a feeling of fear in the marketplace and all news is interpreted negatively and it's interpreted indiscriminately," Tom Digenan, head of US equities as UBS Global Asset Management, told CNBC.
At 16,499, the Dow is officially in a correction now.

— Edward Harrison (@edwardnh) August 21, 2015
The Dow and the Nasdaq Composite saw their biggest weekly losses since September 2011. The Nasdaq fell 3.5 percent ‒ 171.45 points ‒ to end the week at 4,706.04. Its weekly loss was 6.8 percent.
RT's Edward Harrison blamed drops on the Chinese decision to devalue the yuan earlier in August, rather than any problems with the US economy itself.
"The ultimate cause is really the mini-devaluation by China," explained on 'Boom Bust' Friday. "It caused people to reassess markets. Before China did their mini-devaluation, people thought to themselves, 'Okay, maybe China can continue to be the marginal buyer of last resort, we'll put a floor on the commodity prices and everything will be fine, we won't see any more additional selling'."
Ninth largest point drop ever for the Dow. First 500-pointer in four years.

— Eddy Elfenbein (@EddyElfenbein) August 21, 2015
But as soon as the devaluation occurred, Harrison continued, people realized there would be problems with emerging markets and commodities. "As a result of that, they began to sell those markets," he said.
"You look at Apple, it gets a lot of money from Chinese consumers, and so these markets [like the S&P 500] are starting to sell off as well," Harrison said.
The US markets aren't the only places affected by concerns over the yuan. The Russian ruble is down 20 percent so far in August, and Brazil is also down 20 percent, putting it in a bear market.
Oil briefly fell below $40 a barrel for the first time since March 2009, but ended the day at $40.45 a barrel on the New York Mercantile Exchange. That meant that crude oil futures for October delivery ended the day down 87 cents, or 2.11 percent.
Worried investors are turning from stocks to safer assets like bonds and gold, Harrison said.
Gold futures with December delivery dates shot up to $1,153.10 an ounce in New York on Thursday, a five-week high.