Pittsburgh store owner with giant sword chases off machete-wielding robbers (VIDEO)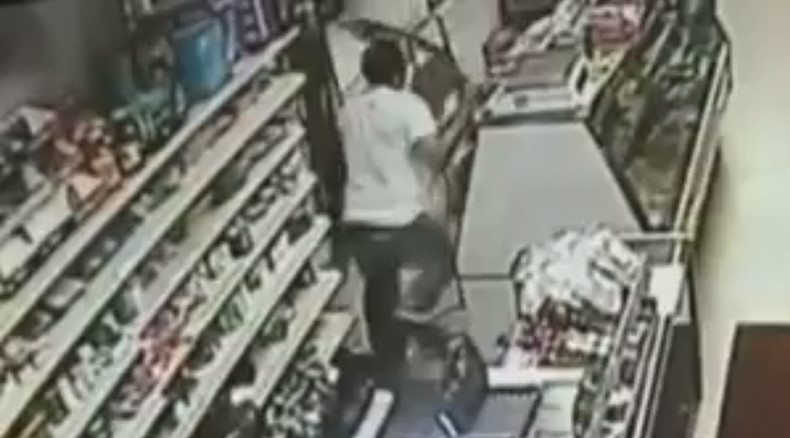 A store owner in Pittsburgh didn't lose his nerve when two masked youngsters, one armed with a machete, ran into his mini-mart intent on robbery. What they didn't expect was that the man behind the counter had his own, bigger sword and was ready to use it.
The whole encounter, worthy of a Hollywood blockbuster, was captured on surveillance video.
A pair of would-be robbers, who turned out to be juveniles, ran into Perry Market as the owner was closing on Friday night. One of them went behind the counter and demanded money, WPXI-TV in Pittsburgh reported. Police said the teen produced a large silver knife over one foot long.
"He was like, 'Stay away. Give me money. Give me money,'" M.C. Hydare, the brother of the cashier, told Channel 11.
Things took a new turn, however, when the store owner pulled out his own sword, which turned out to be much bigger than the boys' machete, and chased the pair out of the store.
READ MORE: CCTV captures armed robbers storming Manchester jewelers (VIDEO)
Both teens were able to get away. Police told WPXI they didn't steal anything. One of them dropped some T-shirts he was trying to take as he ran out the door.
"I just want to give a message to them: Don't try this. You can have money in a better way. Not this," Hydare said. "Please stay away. Go and find work somewhere."