Southern Gimmick: Alabama senator starts GoFundMe page for state budget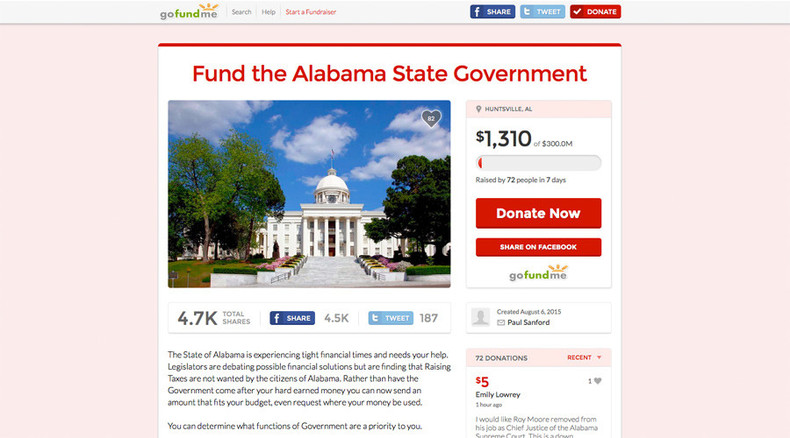 An Alabama state senator set up a crowdfunding effort to raise $300 million for the state budget, an admitted stunt to make a point about high taxes amid the legislature's budget tug-of-war. So far it's gained just over $1,300.
Sen. Paul Sanford started the GoFundMe campaign page on August 6 as the Alabama state government was involved in acrimonious budget negotiations during a special session of the state legislature. Lawmakers ultimately failed to agree on a budget.

Alabama Gov. Robert Bentley requested $300 million in revenue to address a budget shortfall, while conservative opponents proposed deeper cuts to the likes of Medicaid and state agencies to balance the books.
Sanford, an opponent of raising taxes in the state, said in his tongue-in-cheek description of the GoFundMe campaign that funders could request how their money would be spent.

"Rather than have the Government come after your hard earned money you can now send an amount that fits your budget, even request where your money be used," he wrote.

Sanford admitted in the campaign page comments section that the fundraiser was a ploy.

"I do appreciate the comments, but please realize this was to prove a point that most people do not want to pay more taxes but are for taxes when the other guy is to be taxed," he wrote.
The campaign has raised more than $1,000 of the $300 million goal. Donors – some sincere, some not – made their priorities known.

With a donation of $5, Emily Lowrey wrote, "I would like Roy Moore removed from his job as Chief Justice of the Alabama Supreme Court. This is a down payment. Make it happen within two weeks and I'll send you $1000."

Working Man wrote:"Its fun to give money that I've worked hard for to millionaires! While campaigning, they said the people of Alabama would be able to vote on gaming/lottery plus no new taxes. Seeing as both of these issues are still up in the air, I feel confident that I can trust you to use my $5 wisely."

Kevin Young gave $5, saying:"I wont my money 2 go 2 edukayshun, it dun so much far me."

More sincere donors said they gave to fund Alabama state parks, the Black Lives Matter campaign, to promote tourism, road improvement, education, solar panels, mental health services, helping the elderly and veterans, and sexual education.
"I don't think the state senator, Paul Sanford, who created the account really thinks it'll raise $300 million, particularly from people who are already paying taxes," Richard B. Spencer, founder and editor of Radix Journal, told RT. "I don't know if it's a sign of desperation or it's a way for him to insist that they cut spending. It just can't work."