Picture of student shielding cops in Ferguson goes viral, becomes meme, leads to death threats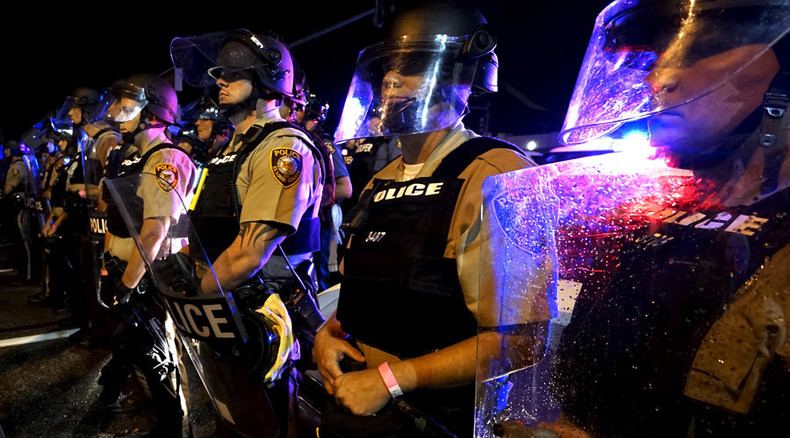 A picture of a young white woman standing in front of police in Ferguson, Missouri to protect them from protesters has gone viral, inspiring memes and sparking controversial reactions, including threats on her life.
Lexi Kozhedsky, a 19-year-old nursing student at St. Louis University, decided to defend police from violent protesters by acting as a barrier between the two groups Monday night.
During the hour and a half she served as a human blockade between protesters and police, people threw water bottles at her.
St. Louis Post-Dispatch photographer David Carson saw Kozhedsky there that night and noticed she seemed out of place, so he interviewed her as police stood in the background. The resulting video of the interview went viral.
"I'm supporting our police because not all cops are bad, and that needs to be realized," Kozhedsky told Carson. "So I think we need to show our support for them. They're the people who protect us."
Kozhedsky told Vice News that she thinks she became an internet sensation because people may see her as a "figurehead."
"I think a lot of people have the same opinion as I do but are too scared to voice it themselves, so when I did, people caught attention, whether it be negative or positive," she said.
And there have been consequences. Since Carson's video went viral, and a photo of her standing in front of police has been turned into meme upon meme, with themes ranging from science fiction to fantasy to anime to sports.
People have called her a racist, a term Kozhedsky vehemently denied.
"I'm not in the least bit racist. I totally agree that racial discrimination is a rampant thing going on in our country, racial profiling. I know if I was pulled over, compared to a black man, I know I'm going to get off free," she told Vice News. "I'm not saying it's not a problem, and I think peaceful protesting is good. When it gets violent, the strategy needs to be changed."
But the negative backlash may have gone far beyond what Kozhedsky was expecting. A producer for Allman's show told RT that the 19-year-old "has gone into seclusion after reviewing some death threats yesterday."
Carson tweeted that "Lexi does not deserve the abuse she's gotten," and that people are free to disagree with her, object to her thoughts and feelings and voice their own thoughts and feelings about Ferguson, but he told them, "Don't threaten her."
As for the police, they seemed to support her Monday night.
"At first they were like 'back up', and I was like, 'No, I want to stand here and help you guys'," Kozhedsky told Vice News on Tuesday. "And once the aggression started happening, people putting on bandanas and other things, one officer in particular walked up to me and was like, Are you sure you want to be a target?' I was like, 'I'm positive, I'm standing for what I believe in'."
"They were really kind and looked appreciative," she told the Blaze.
While Kozhedsky said she understood why people had gathered in the streets to demonstrate against racism and police brutality, she said she didn't understand why Ferguson became the flashpoint for unrest in the US last August.
"They have a legitimate reason to protest. There's definitely discrimination in America. There's definitely racism. But the thing is, it's not in St. Louis," she told Carson. "Mike Brown was not… he was caught on camera hurting a grocery store man."
"They should protest, but in St. Louis and in Ferguson, it's unjust," she added. "I think they should be somewhere where Sandra Bland is or Eric Garner. Somewhere else because… I just think this one case out of many is not the one that should be glorified."