Chainsaws, guns and blenders: 2016 Republicans go viral with crazy antics
Published time: 8 Aug, 2015 03:24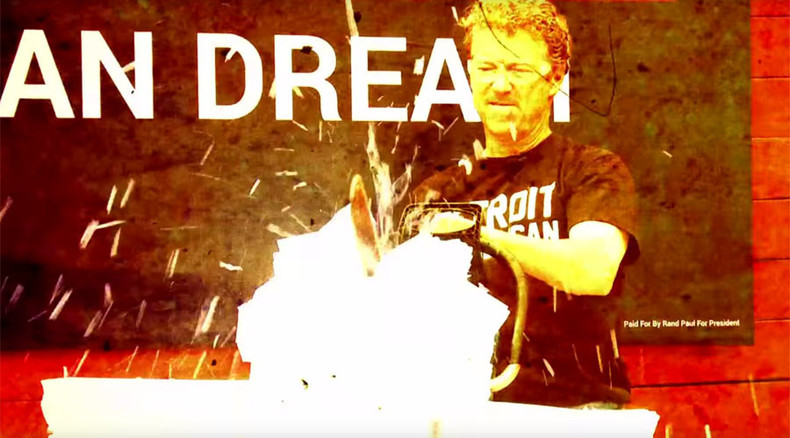 With the 2016 presidential campaigns already underway and real estate mogul Donald Trump sucking up all the media focus, other Republican candidates have resorted to some rather… untraditional ways to attract attention.
Kentucky Senator Rand Paul, for example, has taken to towing a chainsaw with him on campaign stops in order to demonstrate his willingness to "rip up" the US tax code. At a campaign stop in South Carolina on Friday, the libertarian senator pulled the tool out to dramatically demonstrate his anger against the massive code currently on the books.
Previously, Paul released a video showcasing suggesting three different ways to destroy the tax code: tossing it into a fire, throwing it into a wood chipper and, of course, using a chainsaw on it. Sporting a "Detroit Republican" t-shirt, he even used the chainsaw to rip the documents down the middle.
"Hey I'm Rand Paul and I'm trying to kill the tax code — all 70,000 pages of it," Paul said in the video.
As part of his platform, Paul is advocating for a one-page tax code featuring a flat tax of 14.5 percent.
Other candidates are also upping their antics dramatically. Senator Ted Cruz of Texas recently came out with a video showing him "cooking" bacon with a machine gun.
In the video, Cruz wraps strips of bacon around the smoking barrel of an AR-15 while at a gun range and then wraps a layer of tin foil over it. He then fires multiple rounds of ammunition and, when done, peels off a piece of cooked bacon and eats it.
"There are few things I enjoy more on the weekends than cooking breakfast with the family. Of course in Texas, we cook bacon a little differently than most folks," says Cruz at the start of the footage.
Unlike Paul's chainsaw video, however, Cruz's does not even attempt to signify any kind of policy position.
Finally, Senator Lindsey Graham of South Carolina posted a video titled: 'How to destroy your cell phone.'
In this video, Graham is seen submitting his phone to numerous forms of battery. He drops the phone in a blender, hits it with a baseball bat, smacks it with a golf ball and strikes it with a butcher's knife. He even sets it on fire.
Although it sounds as ridiculous as Cruz's bacon video, it was actually a response to the fact that Donald Trump revealed the senator's phone number in public and told people they should "try it."
It's possible that these attempts at going viral will continue as candidates with less publicity will continue to try and generate publicity. As long as Trump's outlandish statements continuing to hog headlines and airtime, don't be surprised to see more videos similar to these.