Cell phone distraction to blame in death of charity cyclist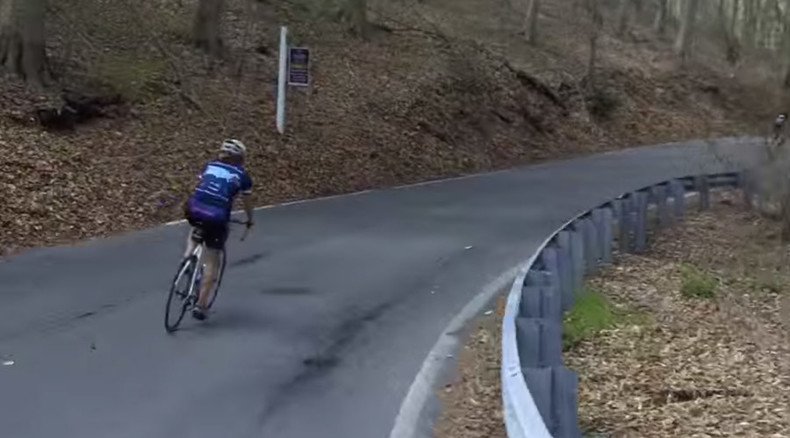 A teacher from the Bronx was struck by a car and killed in Oklahoma during a charity bicycle ride across the US. Another cyclist was seriously injured. Police said the driver had been distracted while looking at her cell phone.
Oklahoma Highway Patrol said the accident occurred Thursday morning, on Highway 152 south of Elk City. Patrick Wanninkhof, 25, was thrown 174 feet and died on impact. Bridget Anderson, 22, was airlifted to Oklahoma University Medical Center with a serious leg injury, reported KOTV in Tulsa.
Wanninkhof and Anderson were part of a cross-country Maine-to-Santa Barbara (ME2SB) ride, organized by Bike & Build, a charity that promotes construction of affordable housing throughout the US. The group's activists cycle between US cities and participate in building projects and community outreach programs.
"We are all shaken by this terrible news, and this will be a difficult time for everyone in our community," Bike & Build said in a statement. "We have solace in the strength of the Bike & Build community, which we will count on to support each other as we respond to this tragedy."
Sarah Morris, 34, told the troopers she had been "distracted by looking at her phone" when she hit the two cyclists, according to the OHP report. Morris was not hurt.
A native of Florida, Wanninkhof joined Teach For America and taught in the Bronx, New York. On his Bike & Build profile page, he wrote that meeting students whose families could not afford New York rents challenged his ideas about education.
"To fix systemic inequities which burden our nation, we need a systemic approach to fighting poverty," Wanninkhof wrote. "Education reform will be fruitless if we cannot guarantee that every child can return to a safe home in the evening. The quest for Affordable Housing for each American runs parallel to my dedication for bringing each student an excellent education."
"Combining my passion for social justice and pedal powered-vehicles will make for the adventure of a life-time," he wrote.
Wanninkhof cited his sister, who completed a B&B event in 2014, as his inspiration for this year's ride. According to his profile page, he had covered 2,390 miles out of the 3,987 planned for the route in 44 days.
READ MORE: Georgia cops pose as construction workers to nab texting drivers

According to the National Safety Council, cell phone use while driving leads to 1.6 million accidents and over 300,000 injuries every year. Texting while driving causes 1 in 4 car accidents in the US, and is six times more likely to cause an accident than drunk driving.
You can share this story on social media: