Georgia cops pose as construction workers to nab texting drivers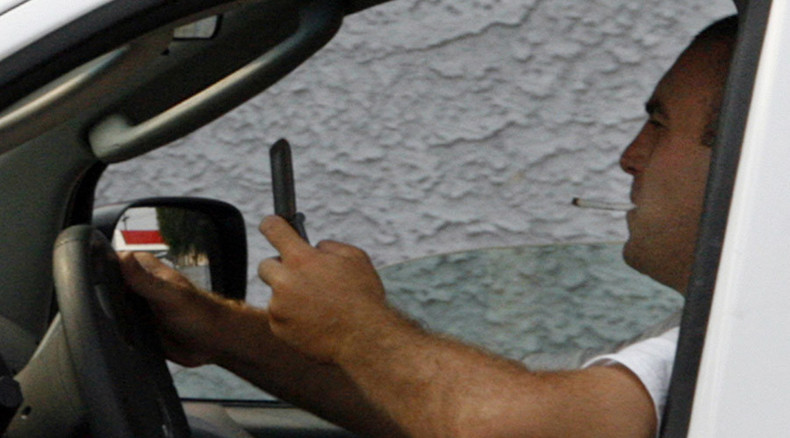 Police officers in Marietta, Georgia went undercover as members of a construction crew to catch drivers checking a mobile device behind the wheel. Texting while driving is against the law in Georgia.
The officers set up at a busy intersection in Cobb County to get a closer look inside vehicles, Marietta police officer Nick Serkedakis told WSB-TV.
"What we've done here is we're able to put officers in the roads so we're able to get close enough almost inside their cars so we can look down and see exactly what they're doing on their phones," he said.
Marietta police insisted that even drivers stopped at a traffic light, as many of the targets of the undercover sting on Wednesday were, are subject to the state's laws. By not identifying themselves as officers, Serkedakis said that police can get a better idea of who is breaking state law.
"It doesn't matter if you're stopped at a light, if you're on a public thoroughfare and facing the phone we're going to have a conversation with you," he said.
READ MORE: 'Justified by facts & law' - Atlanta officer not to face charges for shooting man in back
Police said many drivers pulled over for texting as they waited for the traffic light said they did not know details of Georgia's texting-while-driving law, established in 2010.
Tickets for the offense are $150 and one point on a driver's license, according to WSB-TV.
Police said the amount of distracted driving that occurs -- and the at times dire ramifications of such impairment -- justified their undercover tactics.
"I really think this is the DUI of the future. Impairment is still a problem, but this distracted driving is killing as many people as drunk drivers," Serkedakis said.
Some commenting on the WSB-TV story on social media wondered if a police officer in Georgia is allowed to go undercover to issue traffic violations.
James Lawrence Yeargan Jr., a licensed traffic lawyer in Georgia, said in a forum on the legal-advice website Avvo.com that "police officers in Georgia are considered to be police officers twenty four hours a day whether or not they are on duty."
"If the officers come to court and testify that they saw you run two stop signs then the judge will most likely believe them," he said in response to a question posed on the forum in 2011. "Whether or not they were in a marked patrol car is irrelevant to the fact of whether or not you ran the stop signs."

Georgia police officers, however, are allowed to text or operate devices while driving.
You can share this story on social media: