'Put that in your pipe and smoke it': Senators spar over judicial confirmations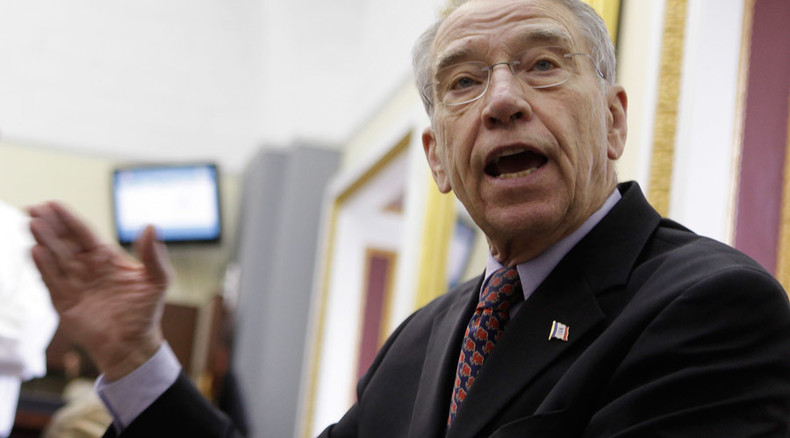 The US Senate was treated to some colorful language as a New York Democrat's attempt to confirm three federal judges ran into opposition by a Republican from Iowa, with tempers flaring just days before the legislature's summer recess.
Senator Charles "Chuck" Schumer (D-New York) tried to get unanimous consent for the nominations of Ann Donnelly, Lawrence Vilardo and LaShann Moutique DeArcy Hall as US district judges in his home state.
The chairman of the Senate Judiciary Committee, Charles "Chuck" Grassley (R-Iowa), would have none of it, arguing the current Senate had confirmed more judges to office than were approved during the George W. Bush administration.
"We're doing a little bit better than the pace that was set on the other side," said Grassley, adding that there were other judicial nominations in line ahead of Schumer's, and that the Senate would vote on them after returning from August recess.
Schumer complained the Senate had confirmed 25 judges at this point in 2007, compared to only five this year, calling it a "disgrace." Grassley countered by saying the statistics had been skewed by Democrats ramming through a slew of nominations last year, before losing the majority.
"Had we not confirmed those 11 judicial nominees during the lame duck last year, we'd be roughly at the same place we were for judicial confirmations this year, compared to 2007," Grassley fired back, adding, "So put that in your pipe and smoke it, Senator from New York."
"Without smoke, Mr. President, I yield the floor," retorted Schumer.
The whole exchange was caught on C-SPAN cameras and quickly made the rounds on social media.
While Senator Grassley's language may sound saucy, the phrase reportedly originated in 1824, when it was used in a comedy titled 'Americans abroad' as a quaint way of saying "deal with it."
This is not the first time Grassley was quick with a zinger. During a budget hearing in 2009, Grassley tried to get one of his amendments included in a resolution by reminding the Budget Committee chairman, Kent Conrad (D-North Dakota), that he owed him a favor.
"Oh, you are good," Conrad said.
To which Grassley, then 76, replied: "Well, your wife said the same thing."