'Cheeseburger, with fries and coke!' vs. prison meal: Louisiana cop threats go viral (VIDEO)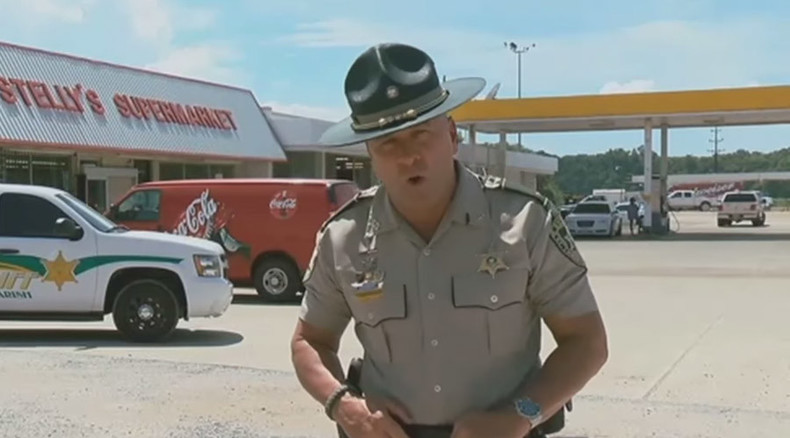 A viral video of a policeman threatening a supermarket burglar has aroused an online ad conspiracy debate. The Louisiana cop promises the thief a prison meal but says that he himself will be enjoying "a cheeseburger, with fries and a coke."
Taken at face value, this is just a Crime Stoppers video aimed at getting the public's help in catching a thief who was caught stealing from a St. Landry supermarket, while leaving a bunch of evidence for the police to collect in the process. In it, the officer looks straight into the camera, hands at his sides, describing the crime, before saying "Look at me, son, I'm talking to you!" as he finally addresses the burglar. But as Lieutenant Clay Higgins of St. Landry Crime Stoppers is done outlining the deed, some noticed a strange coincidence.
The media in the US – and even some in the UK – have gone as far as ponder if the policeman's mannerisms, southern drawl and name are all just a little too perfect.
Various accolades are being given to Stelly's Supermarket and the "folks" who run it, all culminating in the following: threatening the guy with a prison meal, Higgins proceeds to describe his evening plans of "cheeseburger, with fries and a coke, and a nice tip for the waitress."
READ MORE: 'Where should we meet you?' Cops respond to Florida woman's Twitter weed request
At this point, a Coca-Cola van pulls up just behind him, which, admittedly, will only add to the viewer's hunger for all three of the things the officer outlined. Fast-forward to now, and with over a million views on YouTube, the media and people online are speculating if this is all a ploy to plug Coca-Cola.

The company has released no official comment on the video.