Friendly fire: Up to 10 Afghan soldiers killed in US airstrike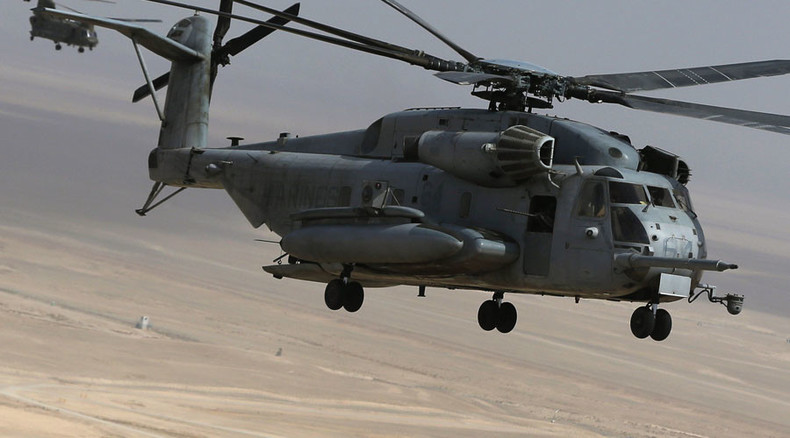 Up to 10 Afghan soldiers have been killed and four more wounded as a result of a US airstrike on an Afghan army outpost in an incident that might compromise friendly relations between the US and its Afghan allies fighting against the Taliban and ISIS.
The airstrike was carried out at about 7:30am local time on Monday and hit an Afghan National Army (ANA) outpost in the district of Baraki Barak in the eastern Logar province of the country, Afghan Police Chief Mohammad Daud Ahmadi said.
"At 6:00am (1:30am GMT) today, two US helicopters attacked a checkpoint in Baraki Barak," district governor Mohammad Rahim Amin told AFP. "The checkpoint caught fire ... and 10 Afghan army soldiers were killed."
Logar province is a largely unsettled area south of Kabul heavily contested by the Taliban.
READ MORE:No permanent peace in Afghanistan with US forces on territory
Two US helicopters patrolling the area reportedly shelled the outpost manned by 15 Afghan soldiers from two different sides.
"I don't know why the foreign forces did it. It was a proper army post, and it had a big Afghan flag waving over it, too," said Mohammad Ramin Amin, the district chief of Baraki Barak in Logar province, as quoted by CNN.
General Abdul Razziq, a commander of the fourth Brigade of the Afghan Army in Logar called the airstrike "a tragic incident," the Wall Street Journal reports.
Mohammad Daud Ahmadi said that this friendly fire incident was caused "by coordination failure … [which] resulted in the targeting of an Afghan National Army outpost in the district," as quoted by the Wall Street Journal.
READ MORE:Afghan war costs American taxpayers $4 million per hour – study
US Spokesman for American forces in Afghanistan, Army Colonel Brian Tribus said that the US military was "aware of an incident involving US forces in Logar Province" and the matter was under investigation.
Afghan Police Chief Ahmadi also said Taliban militants attacked the hit outpost soon after the airstrike but were fought back by police forces after a short firefight.
The US-led military coalition formally ended its combat mission in Afghanistan in 2014, although the US and its allies still lend support to Afghan troops in the form of airstrikes, reconnaissance and logistics, with the bombings becoming more frequent recently because of the higher combat intensity on the ground.
READ MORE:Afghanistan-Taliban talks: 'Terrorists or not, labels less important than stopping war'

The latest friendly fire incident involving US troops in Afghanistan is neither the first nor the only one. In March 2014, five Afghan soldiers died in a coalition airstrike in Logar province with another coalition bombing claiming the lives of five US soldiers, one Afghan soldier and an interpreter in southern Afghan Zabul province just three month later, according to the Wall Street Journal.