Agent provocateur? PETA claims SeaWorld employee infiltrated protests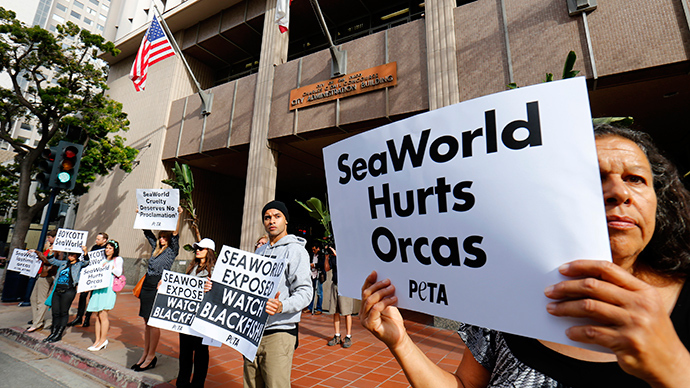 A man who joined protests against SeaWorld and incited demonstrators to engage in illegal activities was a double-agent working on behalf of the company, claims animal-rights group People for the Ethical Treatment of Animals (PETA).
PETA alleges that a man identifying himself as Thomas Jones took part in PETA-led protests for around three years. He attended the New York Thanksgiving Day Parade demonstration in 2013, was arrested for protesting at the Rose Parade in California in 2014, and held signs at a protest outside SeaWorld's San Diego theme park, Bloomberg reported.
BREAKING: #SeaWorld spy, exposed! Man posed as activist for years to get close to PETA: http://t.co/6zYtzv1jw7pic.twitter.com/Y2qx0OSsPr

— PETA (@peta) July 14, 2015
The group claims Jones is really Paul McComb, 28, a SeaWorld employee since at least 2008. According to his profile on the website Jresume.com, McComb's positions at SeaWorld included a stint as a human resources representative.
"[M]ost insidiously, he has repeatedly tried to incite people who object to SeaWorld to act illegally, stating that it's time to 'get a little aggressive,' for 'direct action,' to 'grab pitchforks and torches,' and suggested activists blow horns outside the SeaWorld CEO's house at night," PETA wrote in a statement. "He even organized his own 'direct action' protest—one advertised as 'more exciting than just holding signs'—only to be absent on the day of the demonstration."
SeaWorld would not say if McComb worked for the company. McComb would not confirm his employment with SeaWorld, or if he had ever used the pseudonym Thomas Jones.
"We are focused on the safety of our team members, guests and animals, and beyond that we do not comment on our security operations," SeaWorld spokesman Fred Jacobs said in a statement. "This is a responsibility that we take very seriously, especially as animal rights groups have become increasingly extreme in their rhetoric and tactics."
Both PETA employees and activists said that they recognized Jones as the same person depicted on his wife Brittany McComb's Facebook page. Brittany McComb confirmed she was Paul McComb's wife, but she declined to answer any other questions, Bloomberg reported.
"It's definitely him," said Lisa Lange, a PETA spokeswoman.
Lange said she noticed Jones being arrested at the January 2014 Rose Parade protest, when he and other activists had attempted to block a SeaWorld float. Jones did not appear when activists reconvened outside the Pasadena police department, Lange said.
"'Jones' was inexplicably released without charges, and his name never even appeared on arrest sheets," PETA wrote, describing the incident.
A spokesman for the Pasadena police said he did not have record of a Paul McComb being arrested, nor for a Thomas Jones of McComb's age.
Jones used social media to contact activists ahead of protests, PETA said.
"What is the big surprise for the upcoming protest. Are we going up the gates or something," he asked an activist in a March 2014 message provided to Bloomberg by the group.
"Grab your pitch forks and torches. Time to take down SeaWorld," he wrote in comments on Facebook ahead of a July 2014 SeaWorld protest.
Suspicious PETA activists wrote down Jones' license plate number at a June 6 protest in San Diego. They traced the license number to McComb, according to PETA spokeswoman Kathy Guillermo.
In addition, Jones had also given two addressees to PETA. One was a street in Jamul, California that did not exist. The street did exist, though, in nearby El Cajon, where McComb resides, according to a Nexis public records search.
The other address Jones shared matched a post-office box in San Diego belonging to Richard Marcelino, SeaWorld's head of security in San Diego, according to records searches.
McComb had a security guard license in California prior to its expiration in March, state records indicate.
SeaWorld, with its 11 theme parks in the US, was the subject of a 2013 documentary 'Blackfish,' a film that premiered at the Sundance Film Festival and that was later picked up by CNN Films. 'Blackfish' focuses on the negative consequences of keeping killer whales in captivity, including the death of an orca trainer in 2010.
The film, lauded by many critics, is believed to be at least partially responsible for reduced attendance at SeaWorld parks in both 2013 and 2014, as well as marketing contracts being terminated by the likes of Southwest Airlines Co.
Many musicians and bands cancelled their appearances at a SeaWorld concert in Florida in 2014.
Seeking to reverse the negative publicity, SeaWorld has employed a marketing campaign to highlight the positive work it does for animals and the care its killer whales receive. In March, the company named a new CEO, Joel Manby.