Uber drivers in LA claim entrapment after sting arrests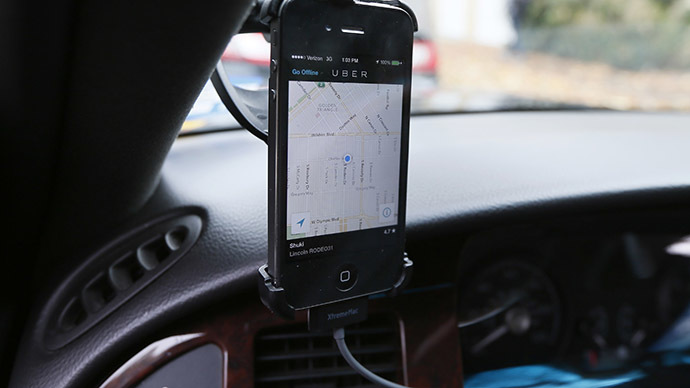 Uber taxi drivers in downtown Los Angeles say they were entrapped by city police during a recent sting that involved women pleading for rides.
The drivers – Roy Freeman, Michael Chadwick, and Sid Lomeli, all who have near-perfect Uber records –told CBS Los Angeles that their separate arrests on Friday night occurred after an insistent woman flagged them down. The drivers believe they were targeted because of the "U" on their windshield identifying them as Uber drivers.
They said they believed the woman might have just used the online app to call a taxi. Yet the woman did not have the Uber app and stressed that she needed a ride.
The Los Angeles Department of Transportation told CBS Los Angeles that ride-share drivers are subject to arrest if they pick up anyone who has not arranged for a ride via the online app.
"I almost thought she maybe needed help or something," Chadwick said.
Freeman said the woman "vigorously waved" at him for a ride.
The woman refused to take no for an answer, the drivers said.
"Then the girl opened my back door," Lomeli said of his encounter with the woman. "She said, 'Come on, I really need to go to this place. I really need to go, please!"
Freeman added, "She said, 'I have a friend across the street, let me wave her over."
Police pounced quickly after the woman entered each driver's car, arresting each individual and impounding their vehicles.
READ MORE: Uber driver who threatened to slit customer's throat suspended
"My door was open and, next thing I know, the cops are behind with the sirens on," Chadwick said.
A Los Angeles Police Department spokesperson told LAist that the department did not have any information to offer regarding the arrests.
An Uber spokesperson told LAist that it was following up on the incidents.
"While we are currently gathering more information on this matter, it is important to note that all uberX and UBER rides must be arranged through the Uber app, which the California legislature, the CPUC, Governor Brown and local jurisdictions across California have embraced as a safe, reliable transportation alternative."
The drivers said they feel they were treated unfairly. Their clean driving records suggest they never offer unsolicited rides, they said.
"Bluntly, I think it's very cruel," Chadwick said. "This could have been handled in a much better way. This is going to set me back bad."
The drivers said they were going to attempt to retrieve their cars on Monday.