AT&T hit with $100mn fine after slowing down 'unlimited' data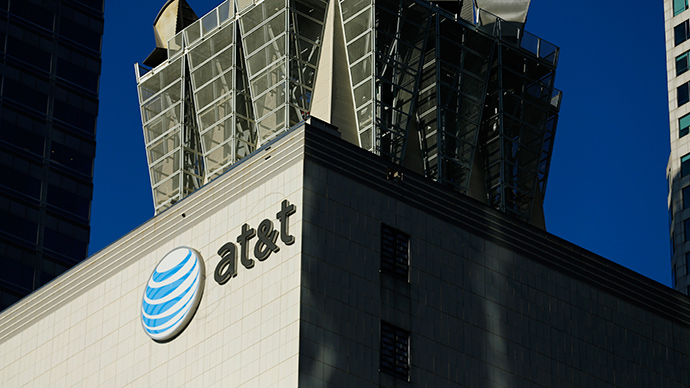 The Federal Communications Commission hit telecommunications giant AT&T with a $100 million fine, the largest it has ever levied, for slowing down the internet speeds of customers with "unlimited" data plans. The company said it will fight the fine.
Thousands of AT&T customers complained to the FCC about the issue, saying they noticed that when they had used up a certain amount of data watching movies or browsing the web, AT&T "throttled" their internet speeds so that they were much slower than normal. Millions of AT&T customers were affected by the practice.
In a press release announcing the fine, the FCC said the company "severely slowed down the data speeds for customers with unlimited data plans" and "failed to adequately notify its customers that they could receive speeds slower than the normal network speeds AT&T advertised."
READ MORE: NSA director wants 'maritime' law for internet
"Consumers deserve to get what they pay for," FCC Chairman Tom Wheeler said in a statement. "Broadband providers must be upfront and transparent about the services they provide. The FCC will not stand idly by while consumers are deceived by misleading marketing materials and insufficient disclosure."
AT&T stopped offering unlimited data plans in 2009, but many customers were grandfathered in before the company began slowing down internet speeds in 2011. The company said it disputes the charges and will fight the fine.
"The FCC has specifically identified this practice as a legitimate and reasonable way to manage network resources for the benefit of all customers, and has known for years that all of the major carriers use it," the company said in a statement, reported the Washington Post.
Other companies have been targeted for similar practices, according to CNN money. Verizon was criticized by the FCC for its efforts to slow down 4G connection speeds and ceased the practice in October 2014. T-Mobile was also issued a warning, while the FCC sued Tracfone for $40 million in January for falsely advertising its unlimited plan.
AT&T argued that the cap only goes into effect after an unlimited plan customer hits a certain threshold, and that the slow speeds last only until the end of a billing cycle. However, the FCC found that unlimited customers were being hit with slower speeds for an average of 12 days – nearly half the billing cycle – and that this often affected mapping services and streaming video over AT&T's network.
READ MORE: Verizon, Sprint fined nearly $160mn for imposing unauthorized charges
Chairman Wheeler said that by not properly disclosing the policy to customers, the company violated FCC rules on corporate transparency.
This was also disputed by AT&T.
"We have been fully transparent with our customers, providing notice in multiple ways and going well beyond the FCC's disclosure requirements," it said in a statement.
Last month, AT&T tweaked its policy and will now throttle speeds only when its network is "congested," though it didn't specify how this was to be determined.
Unfortunately, AT&T customers are unlikely to benefit from the fine, which will go the US Treasury.
The fine also comes as AT&T is trying to convince regulators to approve its $49 billion acquisition of the nation's largest satellite TV provider, DirecTV.
You can share this story on social media: