Snoop Dogg wants to put the 'hash' in hashtag campaigns as Twitter's top exec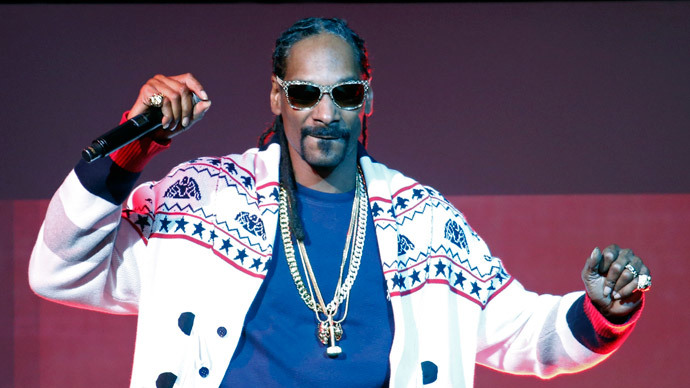 With Twitter facing a management shakeup, rapper Snoop Dogg has started a hashtag campaign on the social media site to lead the company. He tossed his braids in the ring after the current CEO, himself a former comedian, said he's stepping down.
Dick Costolo, Twitter's chief executive, announced Thursday that he would resign his post on July 1. Less than two hours later, Calvin Cordozar Broadus Jr. ‒ better known by his stage name of Snoop Dogg ‒ tweeted that he was "ready to lead" the social media giant, using the #SnoopforCEO hashtag.
Im ready to lead @twitter !! #SnoopforCEO

— Snoop Dogg (@SnoopDogg) June 11, 2015
Lest Twitter's board of directors think that the rapper and marijuana advocate was not serious, Snoop Dogg quickly tweeted his business plan.
First order of Business! Get that Moolah! #SnoopforCEO@twitter

— Snoop Dogg (@SnoopDogg) June 11, 2015
Mashable and Wired quickly got on board with the campaign, with Mashable deputy editor Chris Taylor tweaking Snoop's 'Gin and Juice' lyrics for a more business-like presentation.
@TheRealKSD@SnoopDogg got my mind on my fourth quarter earnings and my fourth quarter earnings on my mind

— Chris Taylor (@FutureBoy) June 11, 2015
Let's make @snoopdogg Twitter's next CEO http://t.co/b0EeKdKXE9

— WIRED (@WIRED) June 12, 2015
Seeing an opportunity to show off his social media marketing strategy, the rapper called on his 12.3 million followers for their ideas to help him in his job application, using the #ifSnoopWasTwitterCEO hashtag.
@SnoopDogg#ifSnoopWasTwitterCEO the max letters wouldn't be 140 it would be 420

— Kane (@KaneStunts) June 12, 2015
@SnoopDogg@SnoopDogg: #ifSnoopWasTwitterCEO it be called woofer and the bird would be a dog

— Aaron (@Aaronmercurio) June 12, 2015
Favorite = Puff Retweet = Pass #ifSnoopWasTwitterCEO .@SnoopDogg

— Marcus Mick (@SourMarcus) June 12, 2015
@SnoopDogg#IfSnoopWasTwitterCEO We'd get retwizzles instead of retweets.

— Captain Vizatic (@Vizatic) June 12, 2015
Actor Orlando Jones got involved in the campaign as well.
Recognizing the cultural import of #BlackTwitter@SnoopDogg to replace @dickc as new CEO of @twitter. The company will be renamed Twizzle.

— Orlando Jones (@TheOrlandoJones) June 12, 2015
So did former Toronto Mayor Rob Ford, another man known for his appreciationof drugs – and tracksuits, apparently.
#ifSnoopWasTwitterCEO ....... pic.twitter.com/YkN8rW4h1w

— Rob Ford (@TorontoRobFord) June 12, 2015
Twitter needs someone with Snoop's business acumen and a drive to "get that moolah!" to head the company, The Verge's James Vincent noted.
"Whether or not you think Snoop would succeed in Silicon Valley, you can't deny that he's a) got a lot of business acumen (just look at all the products he's involved in), and b) knows what social media is good for," Vincent wrote.
On top of selling more than 35 million albums worldwide since his music career began in 1992, he has starred in or had supporting and cameo roles in several movies and television shows. He founded his own production company, Snoopadelic Films, in 2005, and licensed his music for a purchasable smartphone game app called 'Way of the Dogg'. He also has a free app, 'Snoopify', that allows people to add stickers to photos to make it look like they're hanging out with the rapper ‒ and buy premium stickers when they get bored with the original options.
Would those ventures ‒ which The Verge's Trent Wolbe once described as "more of an ADHD situation, fueled by an absurdist dedication to bringing stoned ideas to fruition and keeping tha Doggfather's deep pockets lined" ‒ help the struggling Twitter?
Since reaching a high of $69 in January 2014, Twitter's share price has been in decline. Costolo was at the helm when Twitter hit the stock market in November 2013, with TWTR shares jumping from a $26 initial public offering (IPO) to $44.90 a share by the end of its first day on the New York Stock Exchange.
But by April 2014, Twitter's value was tumbling as decreasing user growth and deep net losses triggered a shareholder sell off. Costolo, who has been the company's CEO for five years, took heat from investors for not growing the business enough, according to Time.
On Thursday, following the announcement that the former comedian would step down, Twitter shares jumped 7 percent. He will be replaced on an interim basis by Jack Dorsey, who is a Twitter co-founder and the company's chairman of the board. Dorsey is also the founder and CEO of Square, a financial services startup that has had money-making troubles of its own.
Twitter's CEO got fired.Posted by Gawker on Thursday, June 11, 2015
"It's unclear how that leadership experience will help Dorsey fix Twitter's problems, most notably the fact that very few people actually use Twitter," Gawker pointed out in a snark-filled article about the transition.
Time noted that Snoop's tweet asking to lead Twitter was less than 140 characters long, while one of the site's earliest and biggest investors, Chris Sacca, needed 8,300 words to explain how he would rejuvenate Twitter.
And, hey, just like Dorsey, Snoop has executive experience, serving as the chairman of record label Priority.