A challenger appears? Ex-Maryland governor takes on Clinton in presidential nomination race
Published time: 30 May, 2015 17:00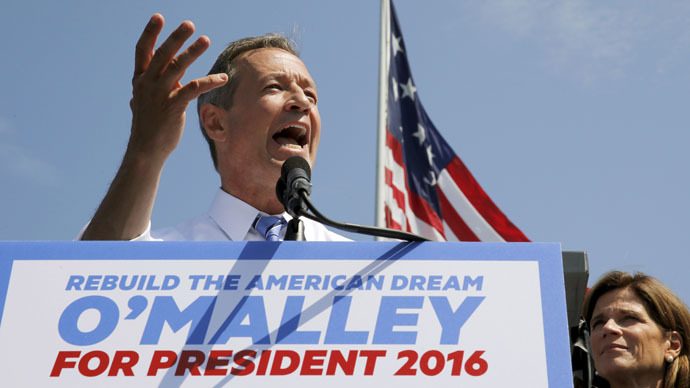 Martin O'Malley, the former governor of the state of Maryland and mayor of Baltimore, has stepped forward as a challenger to Hillary Clinton in the race to the Democratic nomination for the 2016 US presidential election.
O'Malley, 52, announced his running at a rally on Saturday in Baltimore, the city where he had been mayor for eight years until January 2007. After that, he served two terms as Maryland's governor.
During Hillary Clinton's previous campaign, O'Malley was her staunch supporter. He was among the first to endorse her candidacy in 2008, and one of the major fundraisers for her campaign.
READ MORE: Clinton Foundation received $50,000-$100,000 in donations from FIFA
Now, O'Malley appears to be trying to play on the differences between his and Clinton's approaches. A supporter of same-sex marriage and an overhaul of American migration laws, he positions himself as a more liberal alternative to Clinton.
Without attacking Clinton directly, O'Malley has challenged her policies on trade and Wall Street, among other things. "Powerful, wealthy special interests here at home have used our government to create, in our own country, an economy that is leaving a majority of our people behind," he said at the rally in Baltimore.
"Well, I've got news for the bullies of Wall Street," O'Malley added. "The presidency is not a crown to be passed back and forth by you between two royal families."
However, according to a March Washington Post-ABC poll, O'Malley only had the support of 1 percent of the public, compared to Hillary Clinton's 66 percent.
Apart from Clinton, O'Malley will face Vermont Junior Senator Bernie Sanders in the democratic primaries. According to the poll above, Sanders' support is about 4 percent.
O'Malley has time until the primaries kick off in February 2016 to reverse his fortunes using his progressive rhetoric, or the celtic rock skills of his band "O'Malley's March".