TSA agrees to revise hair pat-downs after racial discrimination complaint
Published time: 2 Apr, 2015 04:12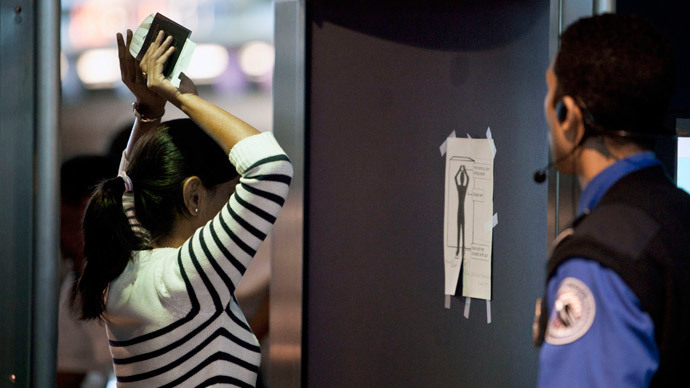 The Transportation Security Administration has agreed to enhance agent training when patting down people's hair during security checks. The agreement follows a complaint that was filed alleging that black women were being targeted during hair pat-downs.
Filed by the American Civil Liberties Union,the complaintwas prompted by incidents at the Los Angeles International Airport and Minneapolis Airport, when Malaika Singleton said she was subjected to an unreasonable and racially discriminatory search on both December 9 and December 16, 2013. Singleton said she was selected twice for a hair pat-down after going through TSA's full-body scanner.
"I was going through the screening procedures like we all do, and after I stepped out of the full body scanner, the agent said, 'OK, now I'm going to check your hair,'" Singleton told Reuters.
READ MORE: Excessive yawners, beware! Leaked TSA document reveals list of suspicious airport behavior
According to the complaint, TSA agents grabbed her hair and proceeded to squeeze it from top to bottom. They found nothing both times and allowed Singleton to continue on her way.
Under the US Constitution, there is a prohibition on unreasonable search and selective enforcement based on race. There are exceptions for airport screenings but they must be tailored to threats to security.
Singleton contacted the ACLU's Northern California office to file a complaint and one of the lawyers there had the same experience twice. Novella Coleman, the ACLU attorney, filed a complaint in 2012 but got no traction.
"The first time I was on a trip with colleagues, some other attorneys who were white and Latina," Coleman said in her complaint. "The woman said, 'I need to search your hair now,' and she just started grabbing my hair and squeezing it from top to bottom."
Coleman said her white and Latina colleagues underwent no such searches and when she asked the reason for the search, she was given a variety of explanations. Coleman said other black women had complained of similar experiences.
"The humiliating experience of countless black women who are routinely targeted for hair pat-downs because their hair is 'different' is not only wrong, but also a great misuse of TSA agents' time and resources," said Coleman in a statement, reported by The Hill.
READ MORE: TSA confiscated over 2,000 guns, numerous grenades at US airports in 2014
The ACLU filed a joint complaint with Singleton in 2014. In response, the TSA said they would conduct anti-discrimination training sessions with its agents to avoid racial profiling by way of hair.
TSA officials said pat-downs are typically conducted when airport security screeners identify "anomalies" on X-ray scanners that need to be resolved before passengers can be allowed to board flights.
The agency's Office of Civil Rights & Liberties said the training will be included in passenger engagement trainings for TSA agents throughout the US. It will also monitor all its airports to see whether discriminatory practices may be occurring at all TSA locations.
Coleman said it was not immediately clear what kind of training the TSA planned for its staff.