2 llamas on the run in Arizona transfix America (VIDEO)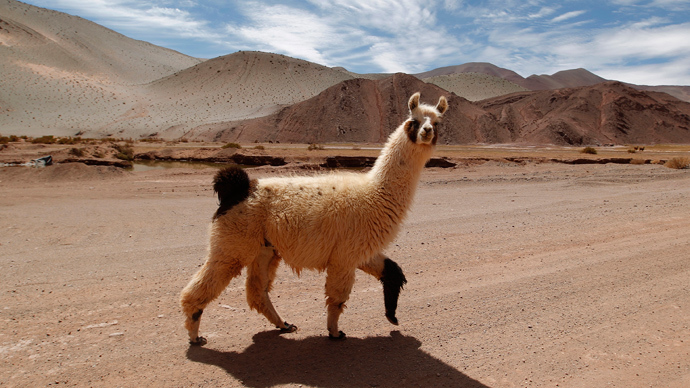 Two llamas that broke free from their handlers in Arizona mesmerized America and the news world on Thursday as they led people on a low-speed chase before finally being captured.
The llamas escaped from a retirement community in Phoenix, Arizona, where they had been brought for the day as part of a mobile petting zoo to provide animal therapy to the residents. One of the residents is a former llama rancher.
Leaving the facility for a break, the two llamas broke free and, for an hour, made news headlines around the country as users tracked their movements on Twitter and helicopters watched them from the air.
The drama started when a large white llama and its slightly smaller black companion were spotted Thursday roaming in the northwestern suburb of Sun City.
Audiences nationwide were captivated by live video from television news helicopters:
People tried to corral them with their arms:
Maricopa County Sheriffs Office conducted a drive-by:
LIVE: Llamas get loose, run through neighborhood in Arizona: http://t.co/cAAyNO9jXi - @abc15pic.twitter.com/32ema3kXA4

— ABC News Live (@ABCNewsLive) February 26, 2015
People lunged for them:
And tried to lassoe them:
The twitter universe blew up with memes, as hastags like #llamawatch and #llamadrama began trending.
We interrupt your otherwise uneventful morning to bring you a high-speed llama chase! http://t.co/v5USRhoaF3#Llamaspic.twitter.com/C43UE6haug

— Herald Sun (@theheraldsun) February 26, 2015
Bull, bear or llama market? #llamadramapic.twitter.com/v0lo4nJOFu

— Bloomberg LP (@Bloomberg) February 26, 2015
At one point, the pair became separated. The black llama was finally lassoed and cornered in the car park while the white one remained loose
Ummmm. pic.twitter.com/2fnkWCFLwz

— Shaun King (@ShaunKing) February 26, 2015
Eventually, the white llama was lassoed from the back of a pick-up.
"@waynefullam: Best chase since OJ's white bronco. #LlamaWatchpic.twitter.com/uz3MDNmxq5" Ain't that the truth!

— e (@workingbee2k) February 26, 2015
The Maricopa County Sheriff's Office said no criminal charges would be filed.