Students walk out of class, protest racist retweet by school administrator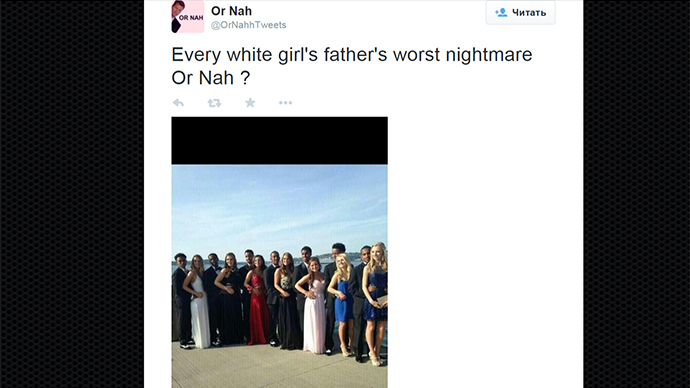 Over a dozen students walked out of a Virginia high school Monday, protesting an administrator's retweet of a racist post, they said. The group of African-Americans claimed other administrators and the school board have ignored their concerns.
The retweet, which the students say was sent from the assistant principal's personal account, shows seven white girls paired with seven young black men, all in fancy outfits. The caption reads, "Every white girl's father's worst nightmare or nah?"
The photo was originally sent by @OrNahhTweets, and retweeted by Booker T. Washington High School Assistant Principal Amy Strickland in June. Students said they didn't know about it until recently, but that, regardless of timing, it's hurtful to see one of their school leaders tweet something like that, WVEC reported.
"Me being a young African-American, I don't think of myself as anyone's worst nightmare," said Michael LeMelle, a junior at the Norfolk, Virginia School.
"I could have been any one of the boys in the picture," he told WAVY. "And I really don't see myself, like I said earlier, as anyone's worst nightmare."
LeMelle and at least 14 other students walked out of class on Monday to show Principal Adrian Day and the school board that they want to know how the situation will be handled.
"This was the only actual way we could get someone's attention, was to walk outside. It shouldn't have come to this, but she's avoided all meetings and public speaking and emails, just avoided them all," LeMelle said to WVEC.
Every white girl's father's worst nightmare Or Nah ? pic.twitter.com/J1LkYr26fR

— Or Nah (@OrNahhTweets) June 8, 2014
The group told WAVY that they also want to hear from Strickland herself.
"She has to notice that she's in a position of power," LeMelle said.
"So, to make the statement publicly, is unnecessary, to say the least," he added, referring to the tweet in question. "Those comments should really be kept to herself."
Strickland is in her first year at Booker T. Washington, a majority-black high school. Her bio on the school website says she came from I.C. Norcom High School in nearby Portsmouth, and was awarded the 2014 City-Wide Teacher of the Year while there.
The School Board of the City of Norfolk is looking into the situation, but did not give any other details, telling WVEC that it would not comment on personnel matters.
"The School Board is aware and takes the allegations seriously," School Board Chairman Dr. Kirk T. Houston Sr. said in a statement on Tuesday. "The Norfolk Public Schools administration is reviewing the matter for appropriate action."
'Racist Tweet' triggers outrage in Virginia. http://t.co/eTKuDZgScZpic.twitter.com/pVUk2dfhYe

— KansasFirstNews (@KansasFirstNews) November 19, 2014
The teachers' union blasted the NPS administration's handling of the matter in a statement.
"I do think an NPS employee tweeting or retweeting this type of message is disturbing. I also think that the lack of urgency in which the school board and the administration addresses these types of issues adds to the problem," Norfolk Federation of Teachers President Thomas Calhoun said. "Sometimes they seem to be hoping the problem will go away or maybe no one will notice. I feel everyone would be better served if they would address issues before the news media, the public, the staff, and the students get involved and form their own opinions of what is going on."
"This is especially true when it comes to administrators. NPS Administration has always been more protective, secretive, and forgiving of its members than the other staff employees," the statement continued.
No comment from other admin to racist #bookertwashingtonhighschool admin twt is almost worse: http://t.co/5pgFDAX1O7pic.twitter.com/CJ11owBXAI

— Dominic Swain (@DomSwainDC) November 19, 2014
The National Association for the Advancement of Colored People (NAACP) has also condemned the administration for its lack of action against Strickland, and the Norfolk Branch NAACP has launched its own investigation.
"We hold the administration accountable for their actions. We will not tolerate racism in this city and definitely not in the education system," the group said in a statement. "Booker T. Washington High School is a fragile school; and the last thing we need in our community are students walking out of school in protest to racist administrators."
Students told WVEC that they don't necessarily want Strickland to be fired, but they do want her to serve some punishment for retweeting racist sentiments.
"The students will even tell you, we don't want her to be fired because everybody needs a job. Transfer her, punish her, do something to let us know it has not gone unnoticed," said student Shakira Harris.
Strickland's Twitter account, along with the tweet that offended the students, has since been deleted.