Don't touch debris! Antares explosion leaves highly toxic elements beyond hazard area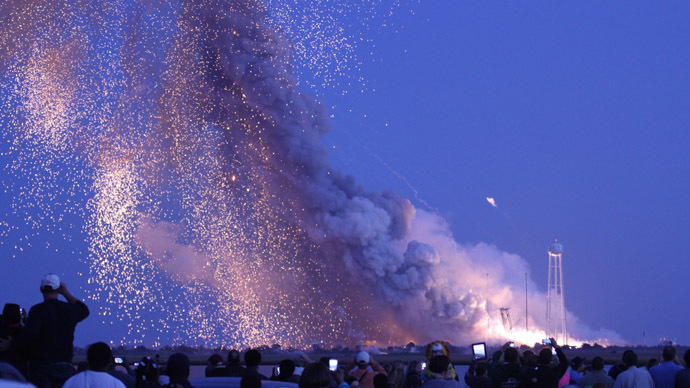 ​The explosion late Tuesday of the Antares rocket, on a mission from Virginia to deliver 5,000 pounds of supplies to the International Space Station, scattered toxic wreckage beyond a protected 'hazard area' that should be avoided, NASA has warned.
An unmanned Antares rocket exploded shortly after takeoff late Tuesday from Wallops Island, on Virginia's eastern shore. Private company Orbital Science Corp.'s rocket was carrying the Cygnus cargo spacecraft, which held about 5,000 pounds (2,200 kilograms) of food, supplies, and other equipment, all of which were destroyed within a fireball just above NASA's Wallop's Flight Facility.
NASA officials said any debris found near the crash site should be reported to the space agency, as the items may be contaminated with rocket fuel or other hazardous material.
"There may be a possibility of debris washing up onto some of the beaches, into some of the areas surrounding the island," Wallops director Bill Wrobel said at a news conference after the crash on Tuesday, according to Space.com.
"If people do find any debris, or anything that might be suspect - something that doesn't look familiar - we would ask that you stay away from the area and please call our incident response team."
On its website's Orbital information page, NASA urged anyone who finds such debris to report it to the agency.
"Damage related to the Oct. 28 launch attempt of an Antares rocket was contained to the hazard area, but there may have been a scattering of debris. Public safety is our No. 1 priority. If people find debris in the vicinity of the launch, please stay away and call the Incident Response Team at 757-824-1295."
The Antares is a two-stage rocket. The first stage is fueled by liquid oxygen and kerosene. Upon explosion, the kerosene likely burned off and the oxygen dissipated, Orbital Sciences executive vice president Frank Culbertson said at a post-crash news conference, according to Space.com.
The second stage, though, included toxic hydrazine and nitrogen tetroxide fuel that could have survived the incident, Culbertson said, and must be handled only with proper training.
"We highly encourage people not to try to enter this area or get close to it, either from the water or the land," he said. "And certainly don't go souvenir hunting along the beach."
Hydrazine and nitrogen tetroxide are part of "a highly corrosive, highly toxic propellant combination," according to a PBS report on a 2013 rocket explosion.
Hydrazine is "just bad news to handle," Leon McKinney, an air, space, and defense consultanttold PBS.
"You have to have special handling procedures. A special Hazmat team."
McKinney added that inhaling nitrogen tetroxide, a carcinogen, is "is like acid inside the lungs."
The $200 million Antares spacecraft crashed after a self-destruct signal was sent to it due to a catastrophic anomaly the rocket experienced 10 to 12 seconds after ignition. Ground crews were prepared to assess the debris-filled area as soon as the sun rose early Wednesday, according to AP.
Wallops director Wrobel said Tuesday that no one was hurt in the explosion, but some property damage occurred at the south end of Wallops Island.
Tuesday's launch was supposed to be the third of eight planned supply missions - executed by Orbital Sciences and Elon Musk's SpaceX - to ferry gear and food to astronauts aboard the ISS. Previous launches went off without complications.
NASA assured that the crash would not endanger astronauts on board the station, since they have enough critical supplies to last until March next year. The US is to launch another supply rocket, a SpaceX Dragon, on December 9.
To compensate for the lost delivery, an unmanned Russian Progress spacecraft launched early Wednesday toward the ISS from Kazakhstan with about 3 tons of cargo.
The loss of Antares and the cargo within the Cygnus spacecraft will have little impact on the actual work on the International Space Station, said Sergey Krikalyov, head of the Central Research Institute of Machine Building, a leading Russian rocket developer, as cited by TASS.
"Apparently, there will be some rescheduling and some of the [lost scientific] equipment will have to be delivered again on the next freighter," he said. "It doesn't mean that some experiments will not be conducted at all – they will simply be postponed."
Tuesday's failed launch was the second attempt this week to send Antares to ISS. On Monday evening, a stray sailboat appeared in the rocket's danger zone, delaying the launch.
Culbertson said Orbital Sciences' top priority is now repairing the rocket's launch pad, the company's only one, "as quickly and safely as possible."
"We will understand what happened - hopefully soon - and we'll get things back on track," Culbertson said. "We've all seen this happen in our business before, and we've all seen the teams recover from this, and we will do the same."
The two Americans, three Russian, and one German aboard the ISS were watching the live video feed from Mission Control when the Antares explosion occurred, according to Mike Suffredini, NASA's station program manager.