US airstrikes over Syria targeted French intel officer who joined Al-Qaeda - report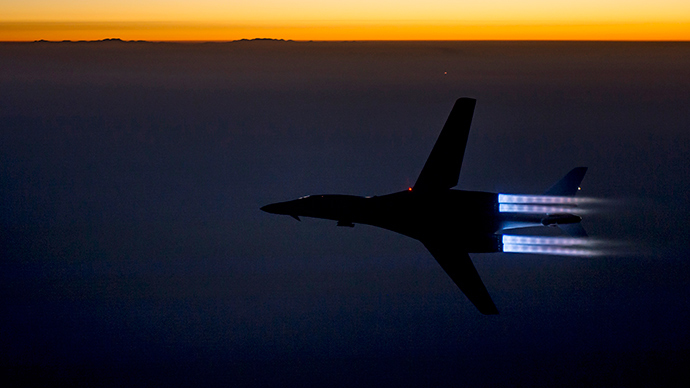 ​A former French intelligence officer who joined Al-Qaeda was a prime target for one of the initial US airstrikes in Syria late last month, European intelligence sources told McClatchy news service.
The former French officer, whose identity wasn't revealed, is believed to be the highest-ranking defector to join the global jihadist group long at odds with the West, McClatchy reported citing multiple "European intelligence officials" at least two of whom independently identified the defector by name. Four intelligence officials from various nations could confirm or partially confirm the former French officer's existence. All sources asked to remain anonymous for the story.
The sources said the former French operative was a main target in strikes that sent 47 cruise missiles into eight areas controlled by Nusra Front, an Al-Qaeda affiliate in Syria. The former officer is "still alive and kicking" after the bombardment, one source said.
US officials have said the targeting of Nusra Front positions in Syria was an effort to destroy the Khorasan group, a unit of militants that the US introduced last month as an organization that has "established a safe haven in Syria to develop external attacks, construct and test improvised explosive devices and recruit Westerners to conduct operations," according to a statement by the US Department of Defense following strikes on Sept. 22.
FBI Director James Comey said in an interview that aired on Sunday that Khorasan "was working and, you know, may still be working on an effort to attack the United States or our allies, and looking to do it very, very soon."
Muhsin al Fadhli, an operative who used to be close to Al-Qaeda founder Osama bin Laden, is the only Khorasan member identified by US officials. Fadhli, a leader in the group, perished in the strikes, one US military official told Reuters after last month's strikes, but the US has yet to confirm his death.
US and coalition airstrikes in Iraq and Syria were initially triggered by the extremist group Islamic State (also known as ISIS or ISIL), a recusant offshoot of Al-Qaeda that gained strength and notoriety fighting the Syrian government in the nation's civil war while amassing control of large swaths of territory there and across the border in northern Iraq.
Rebels fighting Syrian President Bashar Assad's forces said the US has monitored the French defector's movements, McClatchy reported, but they were never asked to capture him.
The former French officer is an ordnance specialist who has fought with Al-Qaeda in Afghanistan and Syria, rebels said. A European intelligence source described him as "highly trained in Western intelligence trade-craft and explosives."
According to European intelligence officials, the defector was either an operative for French military intelligence or the French foreign intelligence agency, the General Directorate for External Security, or possibly both, one source said.
"It sounds likely he started as French military and maybe because of an Arabic family background and appearance, language skills and a high degree of competency, he would then be loaned out to different aspects of the French services," the European official told McClatchy.
How the French officer came to join Al-Qaeda is unknown, according to McClatchy's sources.
"We don't know if he was sleeper [agent] or radicalized after he joined the service," said one source. "I assume my French colleagues are working hard to determine that and if they have figured it out, they certainly aren't sharing how they ended up in this mess, which as you could expect they find rather embarrassing."
One intelligence source described France's failure to detect a potential defector as an outlier among the "highly regarded" French intelligence services.
"We've seen Arab partners lose well trained people to these groups, and in a handful of cases those defectors have benefited from our training through partnership programs," he said. "It's the cost of doing business when you aid some of our regional allies."
French and US officials asked for information on the agent denied comment, McClatchy reported.