Truck driver pulls over trooper for speeding (VIDEO)
Published time: 1 Jul, 2014 19:42
Edited time: 7 Aug, 2014 16:24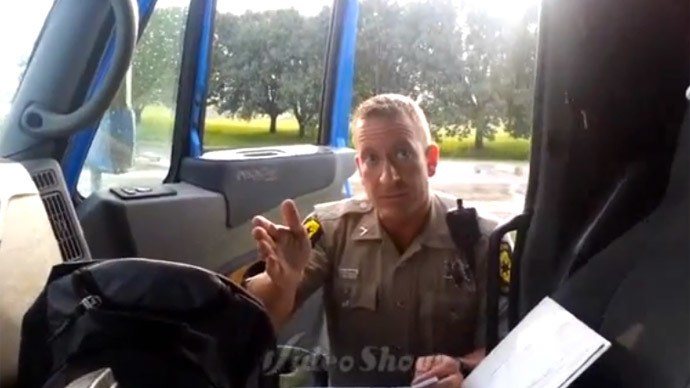 An Illinois state trooper had the tables turned on him when a truck driver flagged him down for speeding and using a cell phone while driving.
In a YouTube video posted by the truck driver, who identified himself as Brian Miner, an unidentified Illinois state trooper can be seen confronting Miner and engaging in a debate over who was speeding on the state's slick roads. Miner reportedly chased after the trooper for driving faster than 70 milers per hour, honking his truck's horn until the officer pulled over.
"You pulled me over with your horn, I don't know what that was about," the trooper says to Miner when they begin speaking in the video, which surfaced on YouTube and now has close to 3 million views.
"Because you were speeding and had your cellphone in your hand," Miner responded.
Regarding his cellphone use, the officer told Miner, "Police officers can actually use technology when we're driving."
At this point, Miner accuses the police of believing themselves to be "above the law," and the two engage in a pointed argument about who was speeding. The officer implied that he was driving at the speed limit when Miner began chasing him down, suggesting that the truck driver himself was driving recklessly and over the 70-mph limit.
The officer threatens to write Miner a ticket for "unlawful use of horn," to which the truck driver responds by saying he's recording their conversation. The officer collects the driver's license and registration, but when he returns to the vehicle he explains that he decided not to issue a ticket because "I didn't want to hurt your record."
As the episode wraps up, the officer also acknowledged that it was not okay for him to be using his phone, but said he did not remember having his device in his hand while driving.
Once the officer leaves, Miner looks into the camera to says, "And that's what happens when they know you're recording."