CA struggling man returns $125,000 fallen from truck, receives reward
Published time: 2 Jun, 2014 16:27
Edited time: 2 Jun, 2014 17:55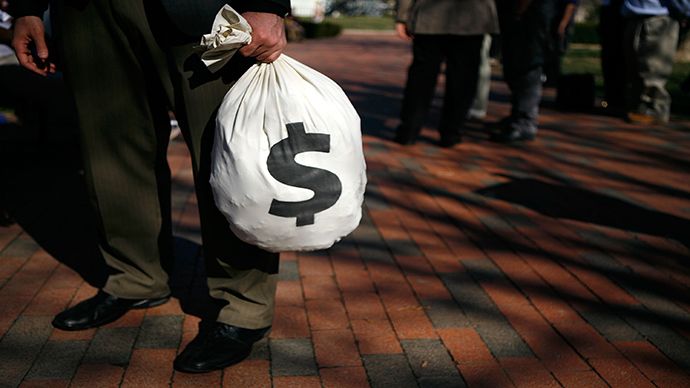 A Salvation Army worker from California has been rewarded $5,000 for his decision to give back a bag containing $125,000 in cash, which fell off an armored security truck.
Joe Cornel found the money last Tuesday after a Brinks security truck pulled away from a red light in Fresno, California and left the sack behind.
The man was working at a Salvation Army lot by the Burlington Northern Santa Fe railroad tracks, when the armored truck pulled up at a red light next to the lot. Then a car pulled up next to the truck and people in the car said something to the Brink's driver.
Cornel explained that the conversation between the people in the two vehicles made him look to where the truck had been, and it was then that he noticed a big bag lying in the road next to the curb.
It was not clear if the bag was meant for the people in the car, or whether it might have simply fallen out of the truck as it crossed the railway level crossing.
"I started crying and shaking. Everything was going through my mind – the good/bad devil thing. What to do?" Cornell told the Fresno Bee.
He explained that the impending birth of his fourth grandchild soon helped him make up his mind.
"I thought, 'What would I want her to think of me?' That made up my mind right there, I got on my radio and called my boss. 'Hey, I found a bag of money,'" he said.
"I went down there carrying the bag like I was Santa Claus," Cornell told KMPH. "It was heavy."
Although he admitted that it wasn't just the desire to do the right thing which motivated him.
"They're going to back-track. There are cameras everywhere now. You'd be doing federal time. And it's the right thing to do," he said.
Brinks will give Cornell a $5,000 reward, and is also making a separate donation of $5,000 to the Salvation Army.
Ed Cunningham, a spokesman for Brinks, said he wasn't sure how the sack of cash fell out of the truck and said the incident was a security issue and admitted that "from time to time" money goes missing.
Cornell is four months into a six-month Salvation Army substance-abuse rehabilitation program and his work includes restoring donated trailers.