TV crew evacuates LIVE on air as Mississippi tornado cuts broadcast (VIDEO)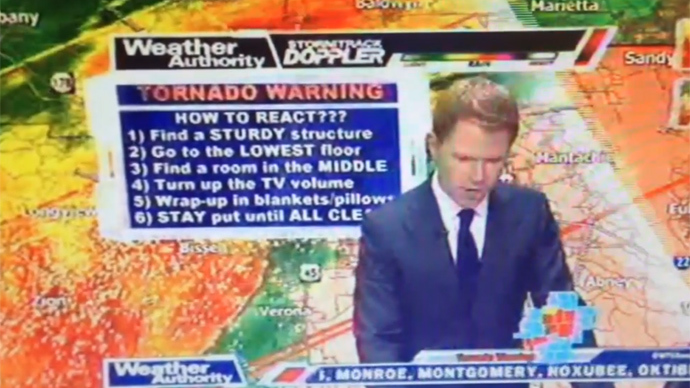 On Monday, a tornado tore through Tupelo, Mississippi in the northern part of the state at about 3 p.m., forcing staff at a local news broadcaster to seek shelter.
WTVA in Tupelo was on the air, giving its viewers the latest information on the dangerous funnel cloud when it touched down. While giving information on how to react to a tornado, Matt Laubhan, the station's chief meteorologist tells his audience, "This is a tornado emergency… This is a tornado ripping through the city of Tupelo as we speak. And this could be deadly."
Laubhan switches to the station's tower camera, showing the dark, threatening skies above Tupelo. The station's feed freezes, then Laubhan is back on camera, shouting, "Basement, now! Basement, now!" He runs off screen as the station evacuates ahead of the twister.
Dangerous tornadoes have been touching down across the US Southeast for the past few days. Monday's tornadoes damaged hundreds of homes in Mississippi, downing power lines and toppling trees, Governor Phil Bryant told CNN.
WTVA crews are out on the scene currently and will report back with any news, the station reports.