May's fawning curtsy for Prince William is mocked ... and it's not the first time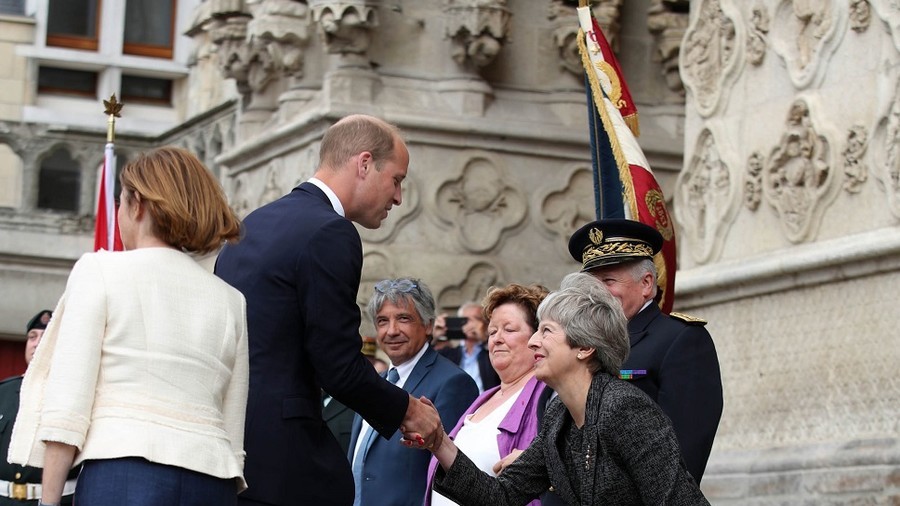 PM Theresa May has been entertaining the social media masses yet again with her trademark 'how low can you go?' curtsy for British royalty – this time it was Prince William's turn to witness her mind-boggling contortions.
The prime minister's latest royal curtsy joins a long list of outrageously low lunges that has not escaped the minds of those on social media.
Sunday Telegraph columnist Sophia Money-Coutts has taken to Twitter to declare: "I continue to be fascinated" at May's curtsying technique to Prince William and other royals.
May was greeting Prince William at a ceremony to mark 100 years since the battle of Amiens, outside the French city's Gothic cathedral, which set Europe on course to end World War I.
While Prince William tried "not to laugh at Theresa May's curtsy," as one Twitter user put it, those on the social media platform were more than happy to make a joke of the greeting at May's expense.
Another, @MutazElnour, claimed to be in awe of May's "athleticism" – adding "I'm 41 years younger and wouldn't dare pull off a stretch like this."
Aaron Gillies, author of 'How To Survive The End Of The World' came up with a hilarious made-up conversation between May and Prince William to mark the comical curtsy.
Conservative politicians have often faced ridicule for the way they plant their feet during staged photos for the media. The "power stance" has been particularly popular with the likes of former chancellor George Osborne, Home Secretary Sajid Javid and PM Theresa May herself. It's fair to say the prime minister has taken leg positioning to a new level.
Like this story? Share it with a friend!