Trade minister Garnier faces probe over claims he asked assistant to buy sex toys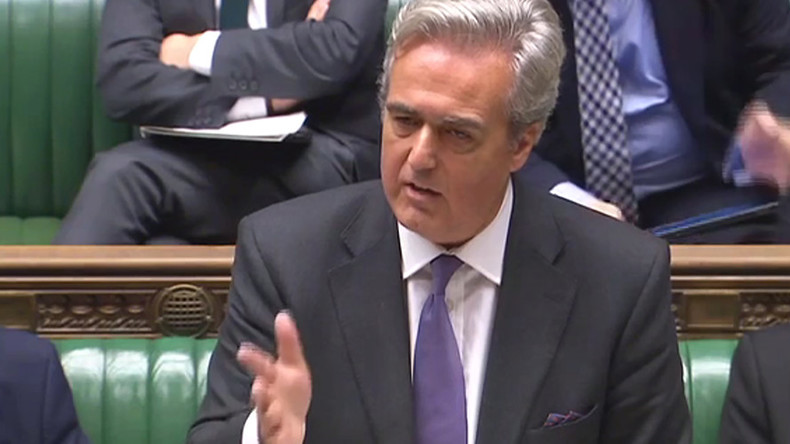 UK International Trade Minister Mark Garnier will be investigated by the Cabinet Office after it emerged he asked his secretary to buy sex toys for him. Health Secretary Jeremy Hunt made the revelation on the BBC's Andrew Marr Show on Sunday.
Garnier admitted to allegations in a Mail on Sunday report that he gave his secretary Caroline Edmondson money to buy two vibrators in a sex shop while he waited outside. Edmondson, who Garnier is said to have referred to as "sugar tits," said the minister told her that one of the sex toys was for his wife and the other for a female assistant in his constituency office.
READ MORE: Harvey Weinstein sex scandals 'covered up' for years after celebrities came to his aid
The 53-year-old MP for Wyre Forest in the West Midlands told the newspaper: "I'm not going to deny it because I'm not going to be dishonest. I'm going to have to take it on the chin."
Addressing the controversy, Hunt said: "These stories, if they are true, are obviously totally unacceptable. The Cabinet Office will be conducting an investigation to see if there has been a breach of the ministerial code."
Hunt also revealed that Prime Minister Theresa May planned to write to the Speaker of the House, John Bercow, to ask his advice on how to change the culture of harassment in Westminster.
RT.com has contacted Garnier for comment.
The latest scandal follows that of former cabinet minister Stephen Crabb, who admitted sending "explicit" messages to a 19-year-old woman he interviewed for a job in 2013 when he was a minister in the Welsh parliament.
Crabb, a devout Christian, admitted saying "some pretty outrageous things" to the woman following an investigation by the Telegraph. The married MP resigned from his post as Work and Pensions Secretary last year following reports of a similar incident.
Earlier this week, the Sun reported that female researchers, aides, and secretaries in Westminster are naming male MPs guilty of sexual misconduct in a secret WhatsApp group. Members of the group are said to have accused politicians, including cabinet members, of being "very handsy" and "not safe in taxis," according to the paper.
Labour leader Jeremy Corbyn used a speech at the Unite trade union's Scottish policy conference Saturday to condemn the "warped and degrading" culture that empowers harassers. "The problem doesn't stop with those who make unwanted advances on women, it extends to a culture that has tolerated abuse for far too long," he said.
The issue of harassment and sexual misconduct has come into sharper focus in the wake of the Harvey Weinstein scandal, with many women now coming forward to share accounts of sexual abuse. Weinstein, a Hollywood producer and film studio executive, has been accused of rape and a litany of other sexual assaults by women in a series of alleged attacks spanning decades.