Is George Osborne targeting Theresa May for revenge… or plotting a political comeback?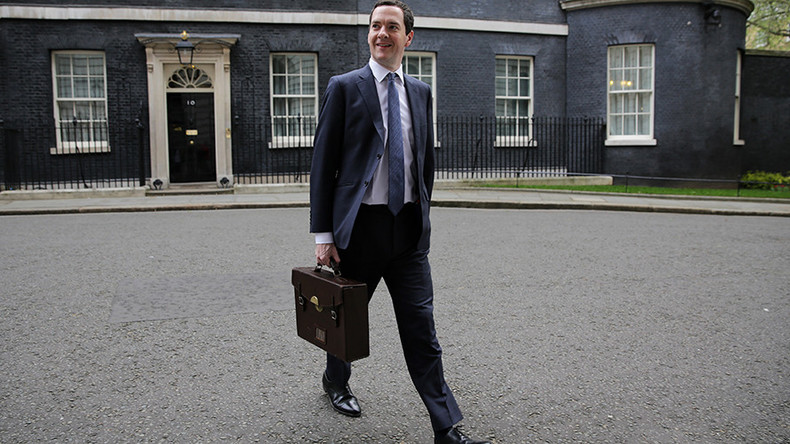 George Osborne says he's glad he quit Parliament to pursue his career of editing the London Evening Standard. But the ex-Tory chancellor, sacked by Theresa May when she took office, could be planning a comeback – just when the PM is at her weakest.
Osborne, who was Chancellor of the Exchequer under David Cameron from 2010 to 2016, was booted out of the Cabinet by May when she became prime minister. Cameron had resigned in June 2016 after unsuccessfully leading the campaign to keep Britain in the EU.
The spurned ex-chancellor has persistently sought to undermine the PM by publishing scathing articles about her in his newspaper – once calling May a "dead woman walking."
But is the former MP for Tatton motivated by vengeful spite alone? Or are his comments part of a grand strategy to sabotage the PM's leadership so he may one day return to frontline politics?
'Right direction'
Speaking at a London event organized by the right-wing Spectator magazine on Thursday, Osborne's views on May's future were obvious, if subtly worded.
He told Politico: "I don't want to get into a public slanging match [with the Government].
"People are well aware of the things I think the government needs to do.
"Of course it matters who the prime minister is.
"But what matters even more is getting the government and the party I care about heading in the right direction."
The comments came amid growing speculation about the survival of the Tory leader after repeated cockups.
In June, she squandered her party's slim Parliamentary majority in a snap election that she herself called, accidently strengthening the hand of the Labour opposition and its left-wing leader, Jeremy Corbyn. She was then forced to buy the support of the Democratic Unionist Party (DUP) for £1 billion to pass legislation.
She then faced criticism over her response to the Grenfell fire tragedy after failing to meet survivors right away.
Add to that her poor performance in Brexit negotiations and humiliating speech at Conservative Party Conference last week, the PM's leadership has never looked so fragile.
With the specter of a Boris Johnson leadership challenge hanging over her, there were reports last week of an attempted coup led by former Tory chairman Grant Shapps, who claimed at least 30 Tory MPs wanted to see the PM fall on her sword.
Yours always?
Osborne was less subtle when he told Politico the subject of May's future dominates his conversations with Cabinet ministers.
Asked whether he thought Tory MPs should stop bickering and throw their support behind May and her Brexit strategy, Osborne said: "I don't think you do a service to the party that I'm a member of and I've been a member of for 25 years of my life, working for and promoting, by pretending there aren't some very serious challenges that the Government faces and the leadership faces."
He added: "You've got to have a clear plan and attempt to lead in pursuit of that plan and that is what the Conservative government needs to do.
"It's no good the Conservatives saying 'well I wish we would stop talking about it' – you can't talk to a member of the Cabinet without talking about it and so we've got to confront that."
Never say never
Moreover, he refused to rule out the idea he could return to the Cabinet.
"I have a question in my mind which is: Do I really want to go back?
"I was there, I did it, I'm proud of what I did. And I worry that that would be a mistake.
"I don't say never. What is true is there is clearly a reason why I wanted to get involved in a newspaper.
"I couldn't quite walk away from the debate about our country's future."