McDonald's downplays Corbyn-backed workers' strike over pay and conditions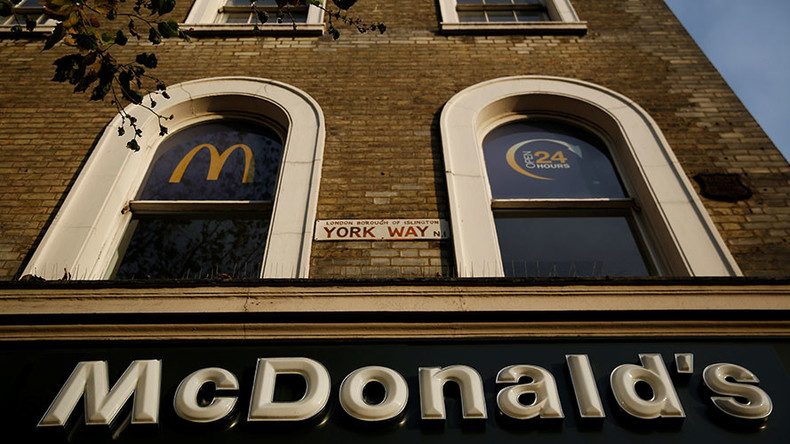 Fast food giant McDonald's is downplaying the first-ever workers' strike against it in Britain, saying those taking action over pay and conditions represent just 0.01 per cent of its UK workforce.
Staff at the chain's branches in Cambridge and Crayford, south-east London voted overwhelmingly in favour of industrial action amid concerns over the use of zero-hour contracts. As well as demanding more secure working patterns, the striking workers want to be paid a wage of at least £10 an hour.
About 40 staff in total protested outside both restaurants from around 5am. Members of trade unions joined early-morning picket lines, while Labour leader Jeremy Corbyn offered his backing.
A McDonald's spokesperson said in a statement: "We can confirm that, following a ballot process, the BFAWU [The Bakers, Food and Allied Workers Union] has indicated that a small number of our people representing less than 0.01 per cent of our workforce are intending to strike in two of our 1,270 UK restaurants.
"As per the terms of the ballot, the dispute is solely related to our internal grievances procedures and not concerning pay or contracts."
The BFAWU said the decision to strike was taken after McDonald's missed "countless opportunities to resolve grievances."
"We, at the BFAWU, fully support the historic decision by these brave McDonald's workers to stand up and fight back against McDonald's - a company that has let them down too many times," Ian Hodson, national president of the BFAWU, said in a statement.
"McDonald's has had countless opportunities to resolve grievances by offering workers a fair wage and acceptable working conditions."
Although McDonald's announced in April that all 115,000 UK staff would be offered a fixed-hours contract by the end of the year, it said 86 per cent of workers had chosen to stay on flexible contracts. The fast-food chain is one of the biggest users of zero-hour contracts in Britain.
Corbyn has spoken out in support of the strike, saying in a statement: "Our party offers support and solidarity to the brave McDonald's workers, who are making history today.
"They are standing up for workers' rights by leading the first ever strike at McDonald's in the UK. Their demands - an end to zero hour contracts by the end of the year, union recognition and a £10 per hour minimum wage - are just, and should be met."
Union and Labour party members also staged a protest outside the company's headquarters in East Finchley, London, on Saturday.