'Too scared to have me on!' Ex-aide to Brexit secretary 'has C4 News interview pulled'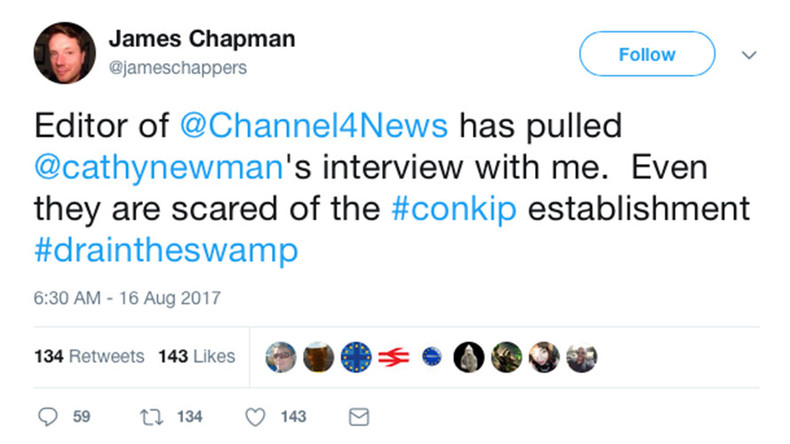 James Chapman, the former aide to Brexit secretary David Davis, says his interview on Channel 4 News was pulled because the "British media won't tell the truth about Brexit." He has called on his supporters to bring down the "rotten, fascist, corrupt government."
In a tweet on Wednesday, Chapman said: "Editor of @Channel4News has pulled @CathyNewman's interview with me. Even they are scared of the #conkip establishment #draintheswamp."
He accused the news program of being "too scared to have me on."
Speaking through a friend's Instagram account on the Greek island of Spetses, Chapman said following days of Newman chasing him for an interview, she called him on Wednesday to say the "editor doesn't want to do it anymore because it's too controversial."
Chapman says "this is an example of how our broadcasters, our media, is frightened to tell people the truth about Brexit. The truth is they have failed to tell of the calamity, the disaster Brexit will mean on all sectors of the economy."
He said that despite working on Brexit for a year in "good faith to try and make the most of a referendum result I didn't agree with," he realized "Brexit will not work."
Chapman went on to say the "BBC is corrupt" and "won't report the truth about Brexit," so he will keep spreading his message through other means of communication.
"Let's bring down this rotten, fascist, corrupt government," he added.
Over the last two days, Chapman has been on an online tirade against Prime Minister Theresa May and his former boss Davis. He accused the Brexit secretary of being a lazy, incompetent, bullying liar who was unfit for the job of negotiating Britain's EU exit, and questioned the intellect of May.
Chapman quit the Department for Exiting the European Union before the general election in June, and in recent weeks has begun sharing some of his concerns about what he says is a lack of planning among British officials and an apparent unwillingness to publicly address the scale of the task.
Chapman claims the only way to escape the mess of Brexit is for the creation of a new party called the "Democrats" to be launched in September.
The new party would seek to overturn Brexit and then ban all future referenda.
In the days since he first proposed the idea, Chapman says he has been approached by two Tory MPs in cabinet and several former cabinet ministers asking about the new party.