#DogsAtPollingStations may be best thing about UK General Election
Published time: 8 Jun, 2017 09:01
Edited time: 9 Jun, 2017 10:33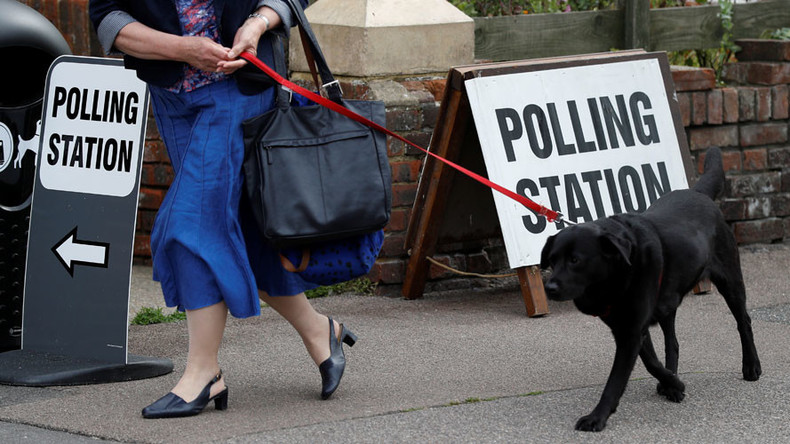 As people go to the polls to elect the UK's next government, their canine companions are once again out in force at polling stations across the country and the pictures are possibly the best thing about the whole election spectacle.
People sharing images of pooches getting involved in the democratic process has become a feature of recent British votes. It brings out the notorious British canine devotees, but also quite a few 'wags'.
The #DogsAtPollingStations hashtag has been incredibly popular in recent years, and this year has even been updated to include an emoji dog with a 'Union Jack' coat.
The phenomenon has been widely covered by the media, probably because a moratorium severely restricts what election -related news media outlets can report on polling day.
Judging by the impressive amount of photos uploaded to Twitter and Instagram, dogs have voting early and often at stations across the UK. So far, there have been no reports of anyone being hounded out of office.
Dogs are permitted inside the station as long as some rules are followed. Guidelines from the Electoral Commission say that dogs can enter polling stations in an "accompanying" role, but should be kept on a lead and must not disrupt the vote.
Other animals are also getting in on the action, with horses and cats also making the effort to exercise their democratic mandate. Interestingly, horses and ponies are welcome at polling stations, however they must be tethered up outside, as the Electoral Commission rules that they can't go inside. And a good thing too, as they are really only known for casting 'neigh' votes.
The commission has also banned posting to social media from inside polling stations and you're also not allowed wear rosettes showing party affiliation.